Dave and I hit Las Vegas and Jamaica on our anniversary-honeymoon. We had a fantastic time!
Day 1
We flew from Fort Lauderdale airport to Las Vegas Airport in a direct flight on Delta. The flight was just over 5 hours and Delta had a nifty little thing where you could watch the progress of the flight including your altitude, speed, outside temperature, and distance to arrival on the small screen on the seat back in front of you. They also had some kind of satellite TV where we watched bits of Saturday Night Live, extreme snowboarding, and Ferris Bueller's Day Off. The flight was quite turbulent and it made me sick to my stomach. I felt bad for the first hour or so in Vegas, but once I had a little soup, I felt much better.
The hotel upgraded our room free to have a view of the
dancing fountains
. The view of the strip was amazing.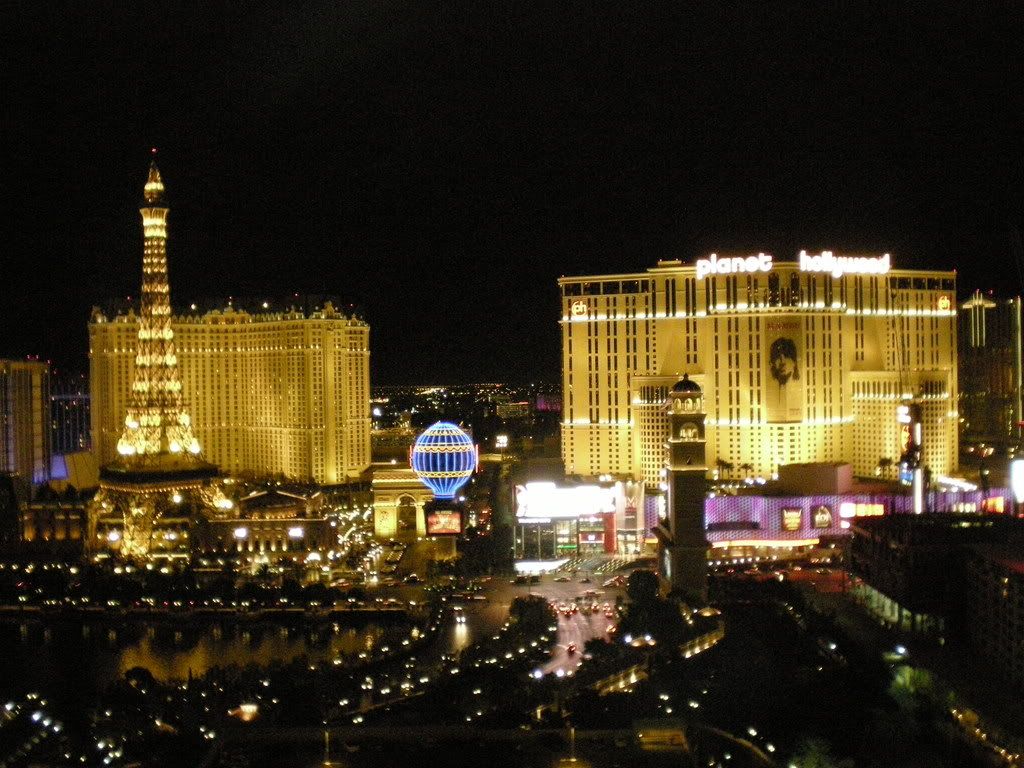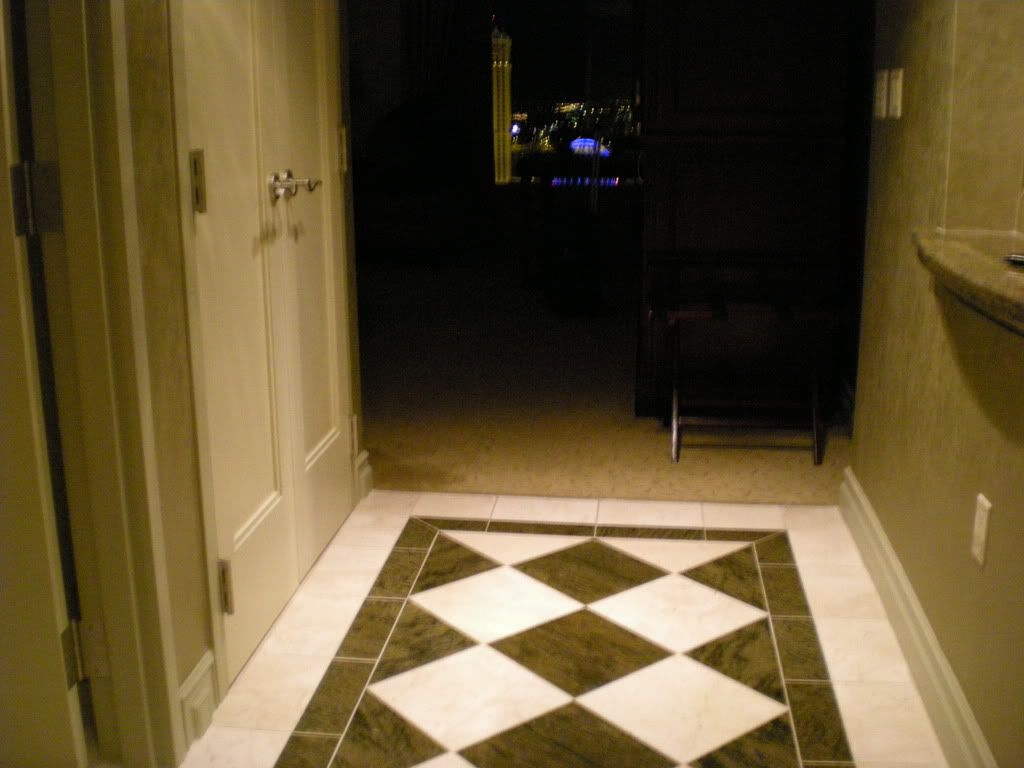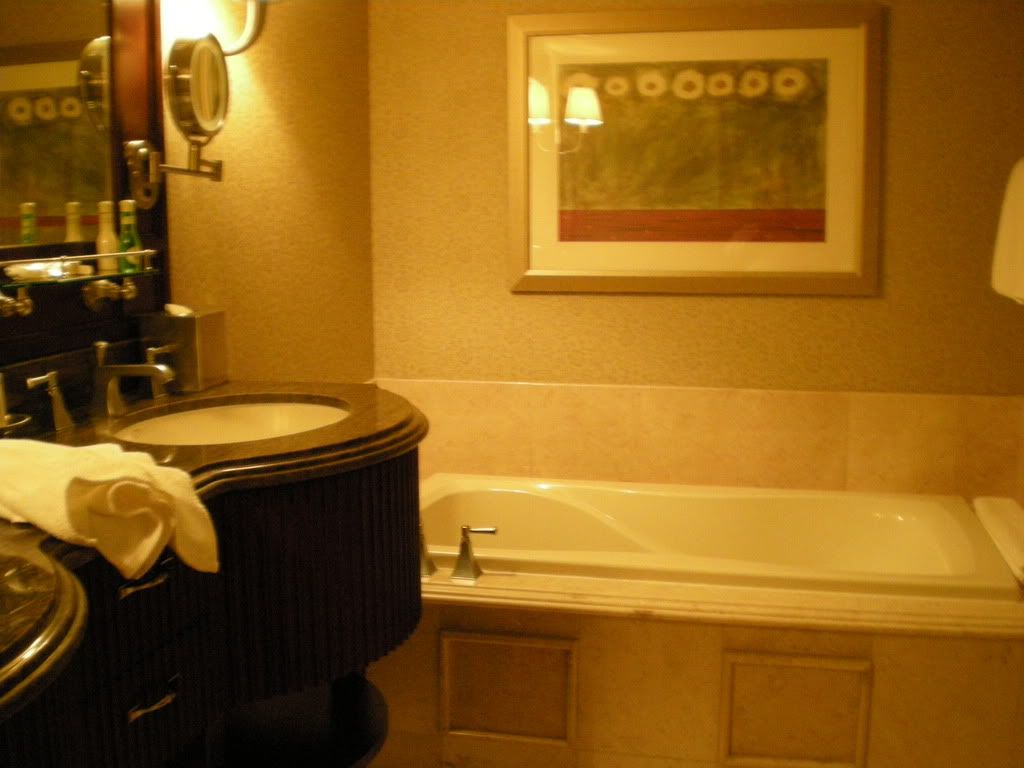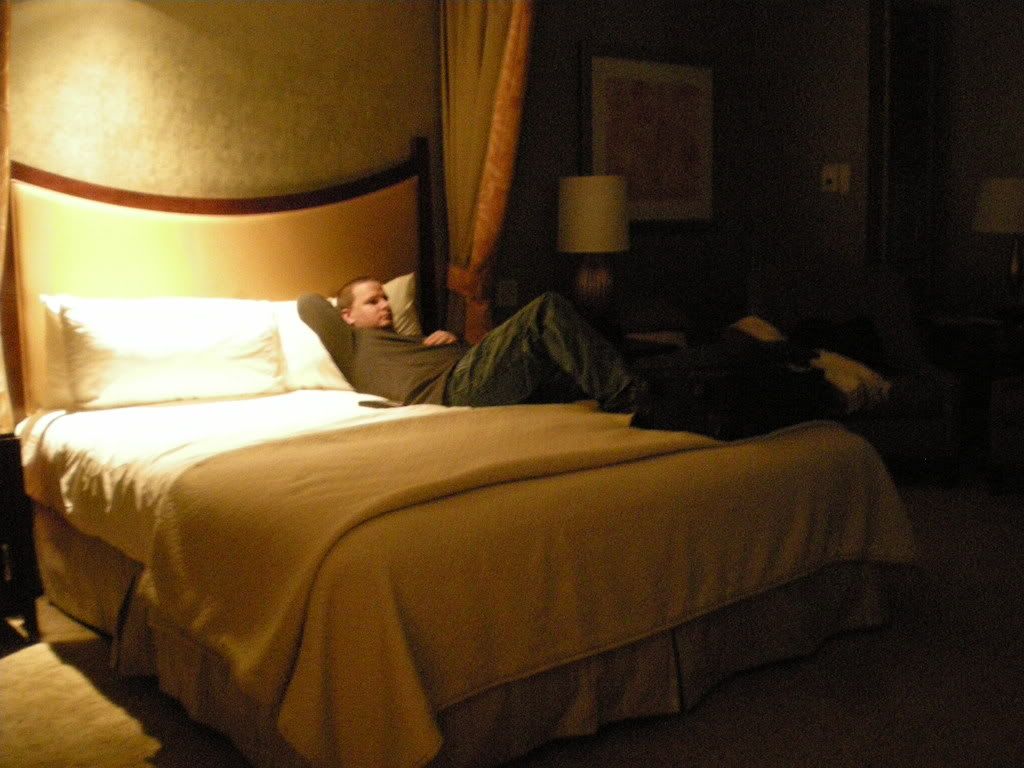 I had to get my Player's Club card updated with my married name and this time in Vegas I gambled quite well. I spent only $150 on my own and cashed out at $35 after 3 days of play. Dave simply fed the hungry hotel gambling monster who ate up his money greedily and happily. We played slots and craps. The Palms even had the Aliens game that I play at the casino near home.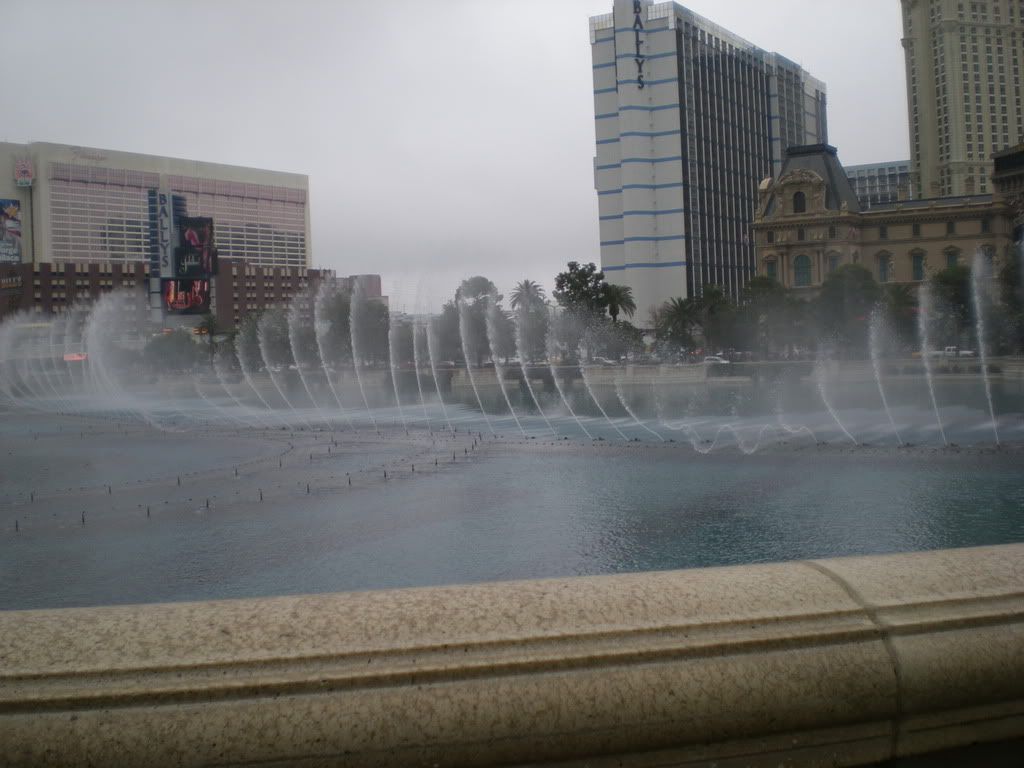 We arrived around 930pm Vegas time. It was chilly out. We unpacked our toothbrushes and that sort of thing and headed down to the casino at Bellagio to look around and have some dinner. We found a tiny restaurant called Snacks that had American food (Philly cheese steaks and such) and Dave had some BBQ Pork sandwich and I had tortilla soup. Food revived me to life again and helped settle my stomach. While we ate, we people-watched as the well dressed and barely dressed women went into the club, The Bank. We played a little bit of slots and admired the garden, which changes seasonally. Last time we saw it was fall and there was a giant water wheel and glass leaves the size of a man dangling from the ceiling as if still falling from some unseen trees. This time it was lunar new year and the year of the rat was all over.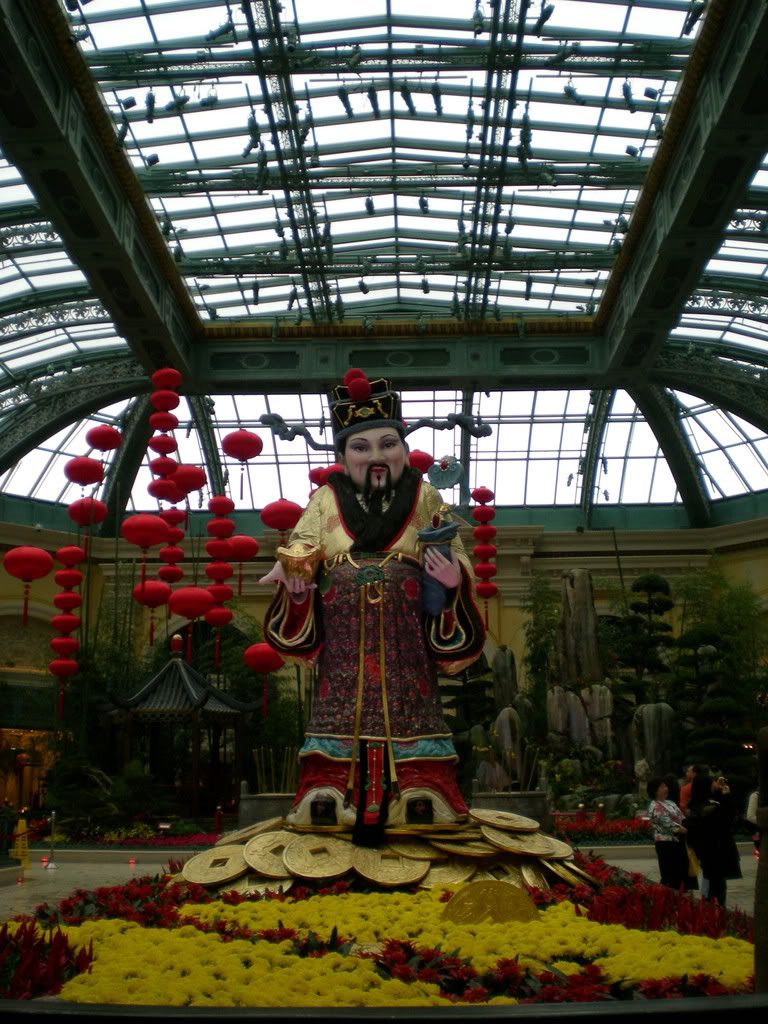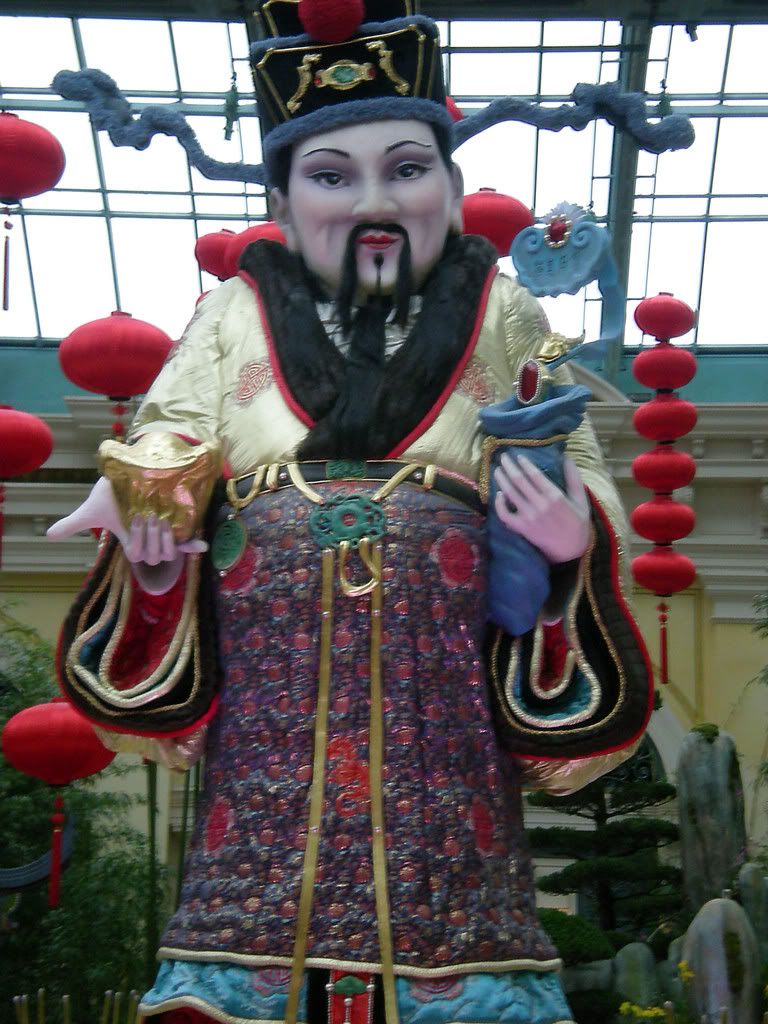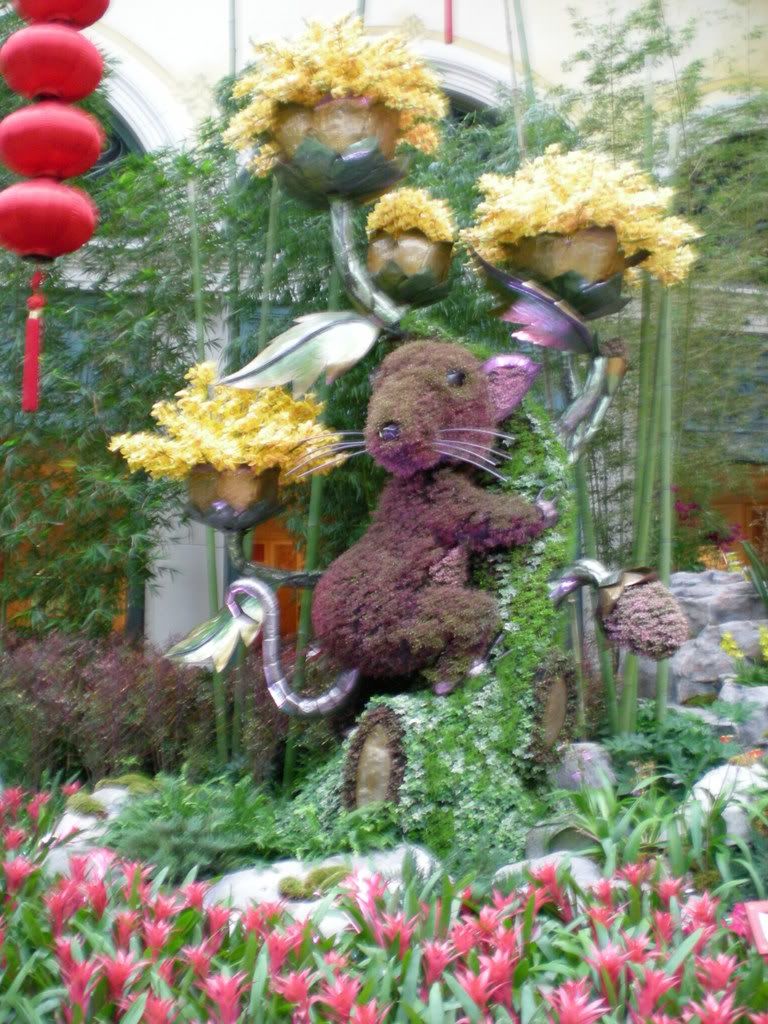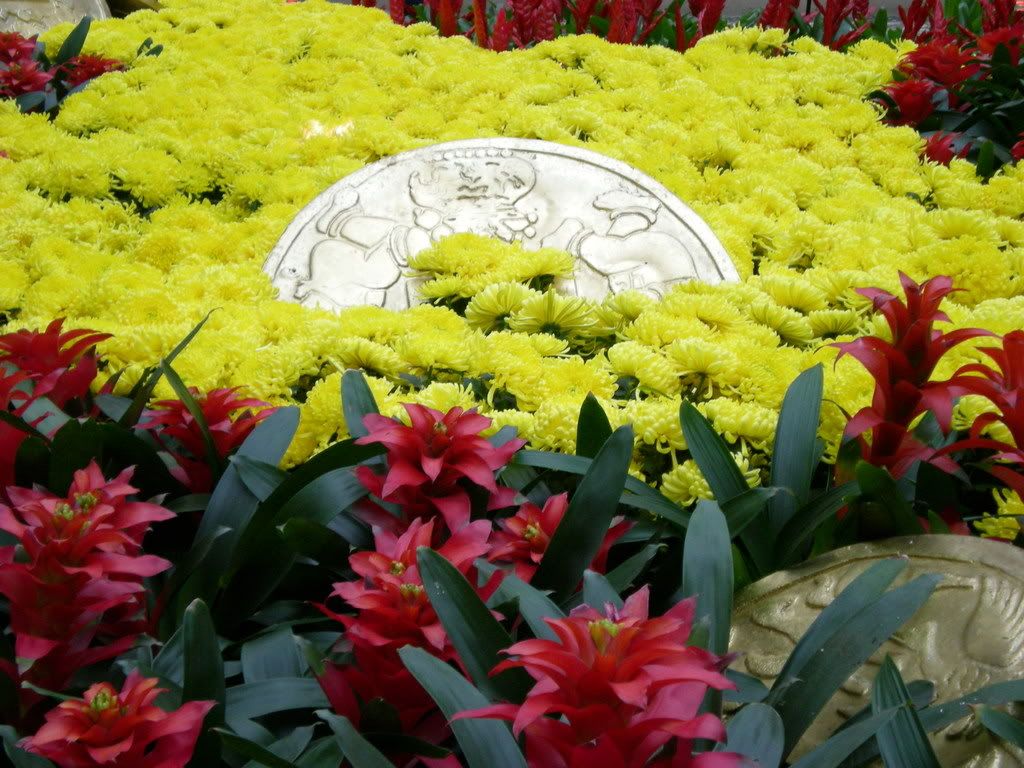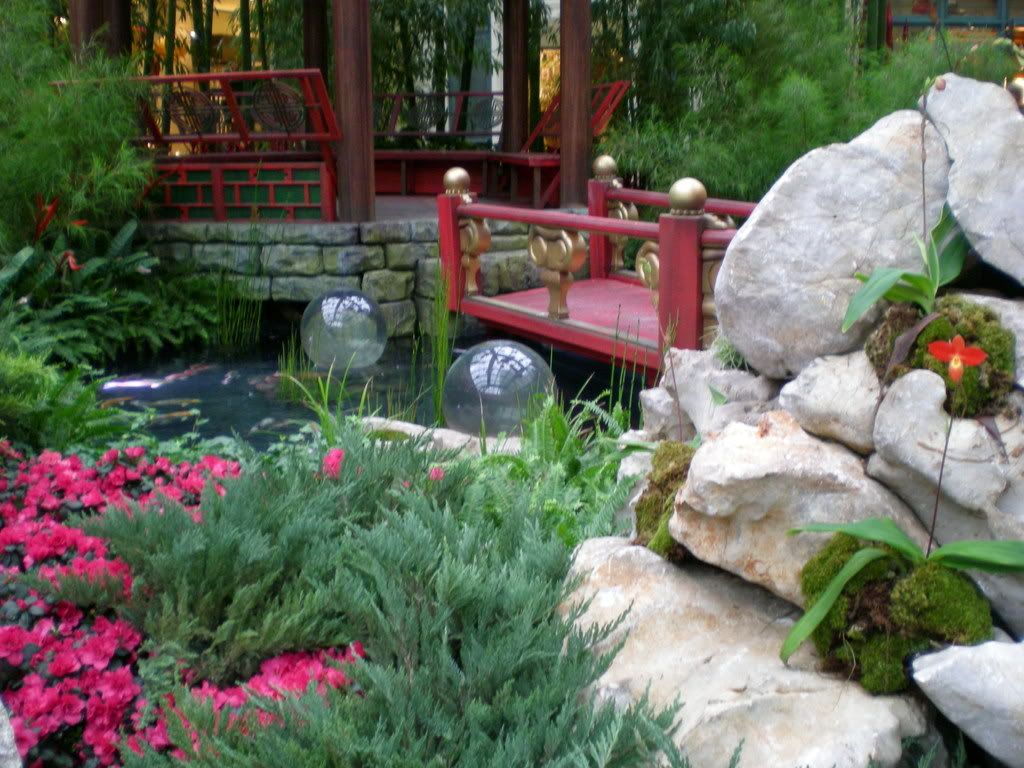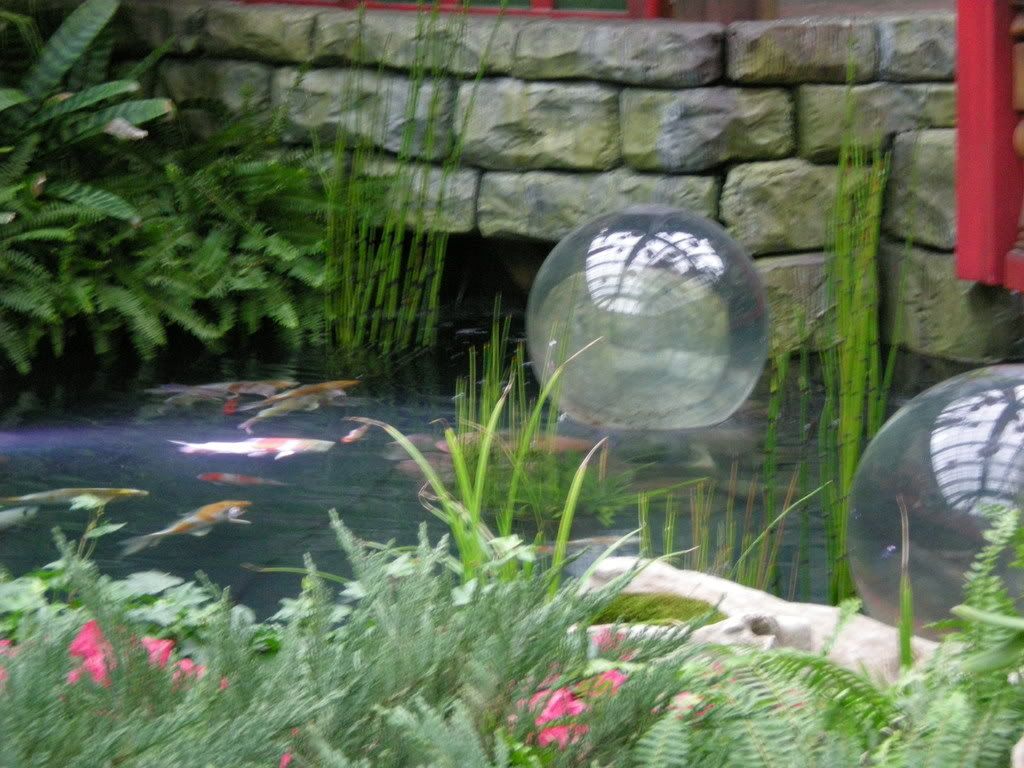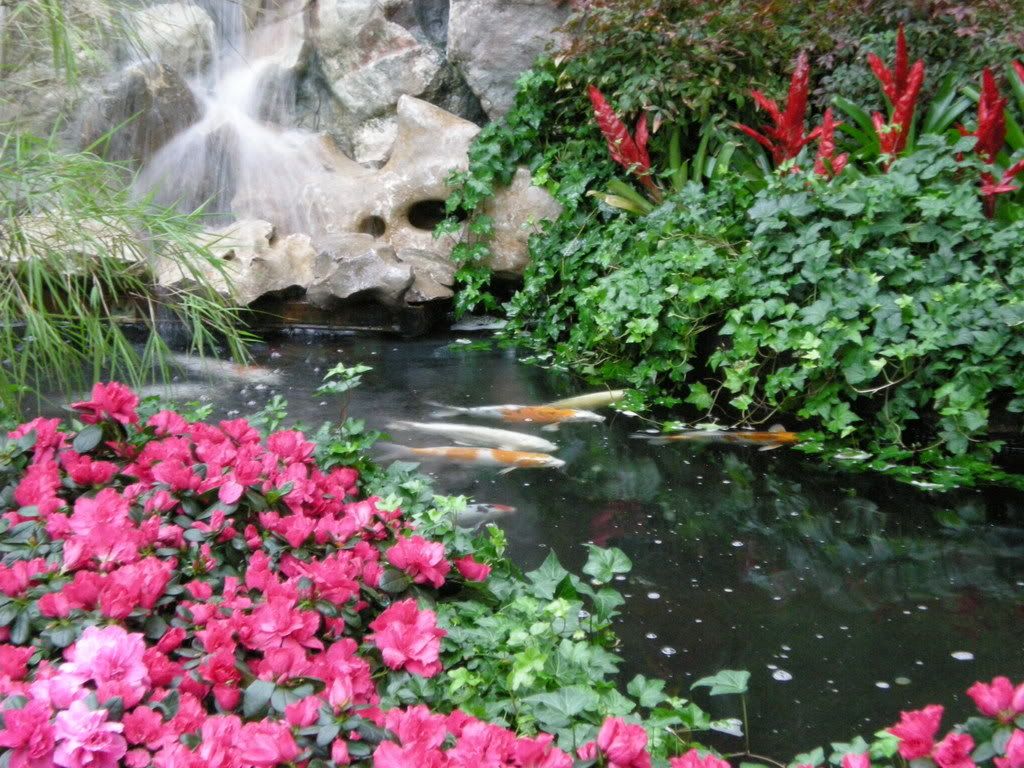 The Chihuly exhibit as you walk in was no less impressive this trip and still took my breath as I entered. Every time we passed it I smiled. Something about the care taken by blowing each piece by mouth and the installation of each individual piece to make the giant array makes me so happy. This Chihuly is in one of the lounges.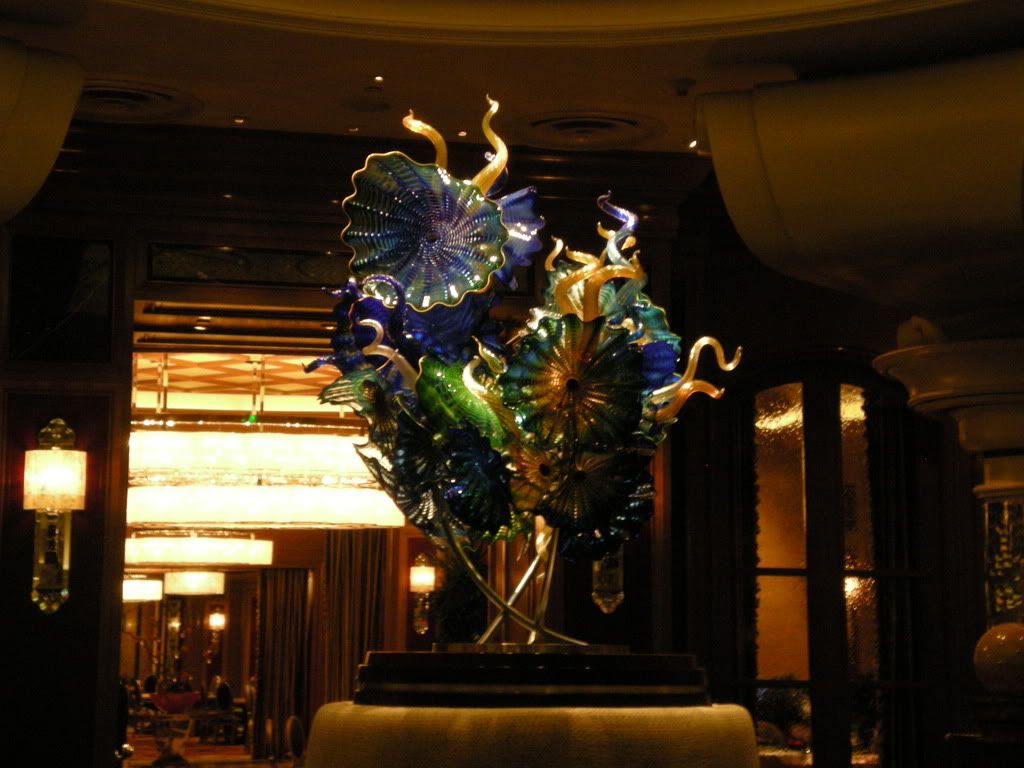 Our room was amazing and ever so comfortable. The bed and pillows were made of angel's feathers and it was just delightful to be there. I was born to stay 5-star.
The didn't have Wifi like I thought they would. I wanted to check in with my folks and say we'd arrived safely. However they had a "souvenir" basket containing munchies and an ethernet cable for purchase. Um, that's a crummy souvenir. We didn't partake.
Day 2
Breakfast was at the
pastry shop
downstairs and the chocolate croissant I had my mouth set for was everything I wanted in a breakfast. Like little orgasms in your mouth. The hot cocoa was no slouch either. We sat and watched a little video of how things are made there and were doubly impressed by the care taken by the workers to make chocolate flowers and such.
It was 44 degrees and drizzling off and on, and I finally got a chance to wear my leather jacket and a scarf (the pashmina from my wedding, actually). We toured three hotels this trip: the Palms, the Venetian, and Planet Hollywood. We found the Palms to be tiny in comparison to every hotel we'd toured this trip or last trip. You couldn't even get lost in it. Maybe their hotel rooms are great or their clubs are awesome, but we were entirely unimpressed.
The sign says Ah Sin.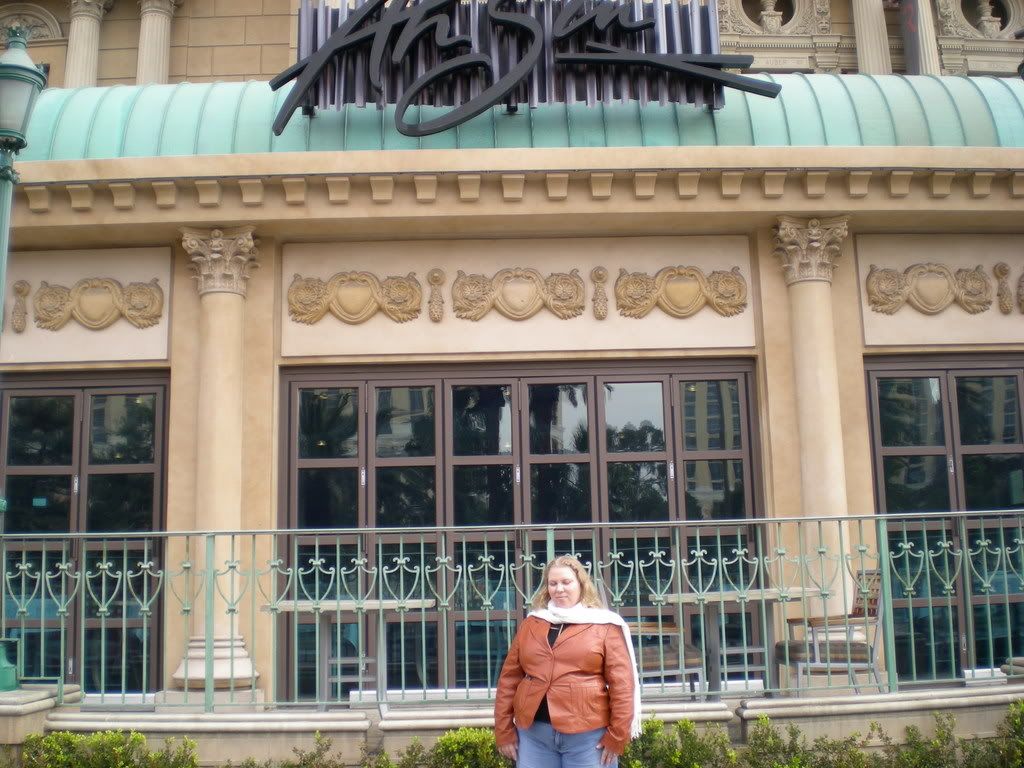 We agreed not to eat anywhere that advertises Poison on the sign. Jorge, I advise you to steer clear, with your poison allergy and all.
This is a view of the strip where its so foggy you cannot even see the Stratosphere, just barely the bottom of it.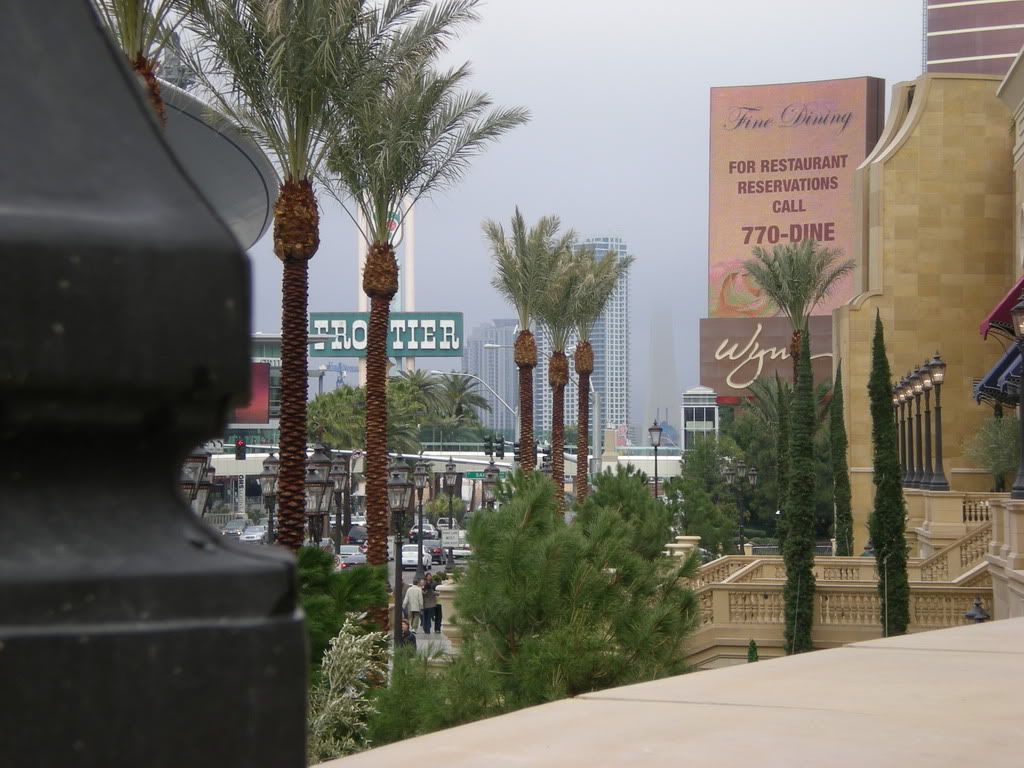 Random images from the Bellagio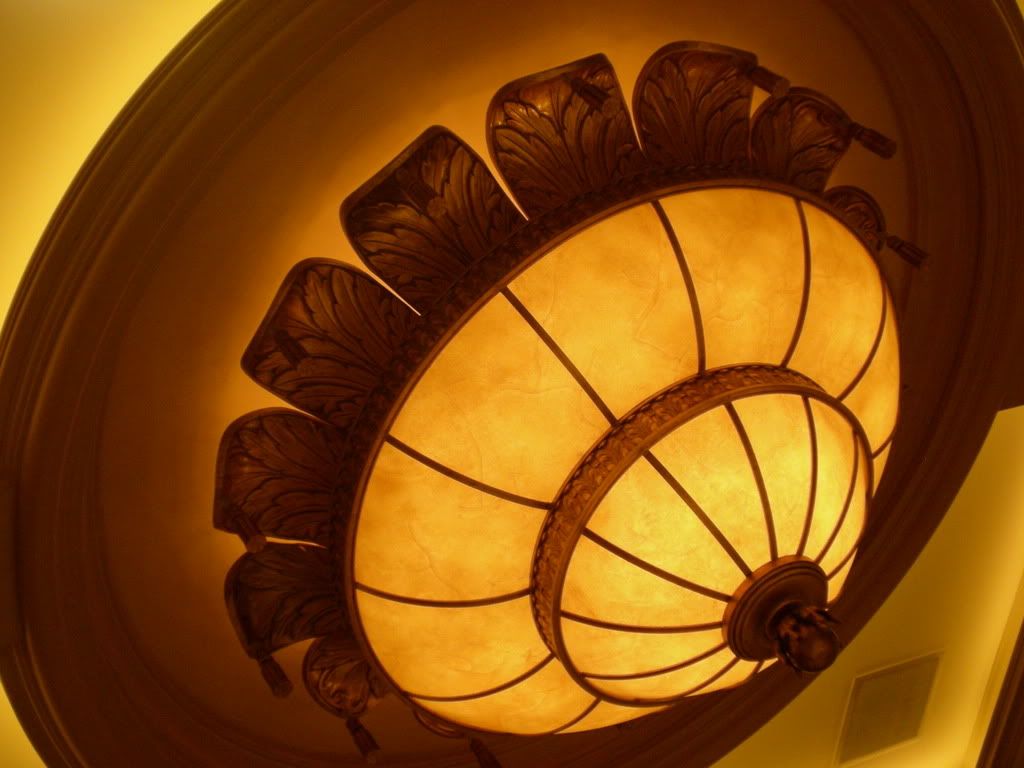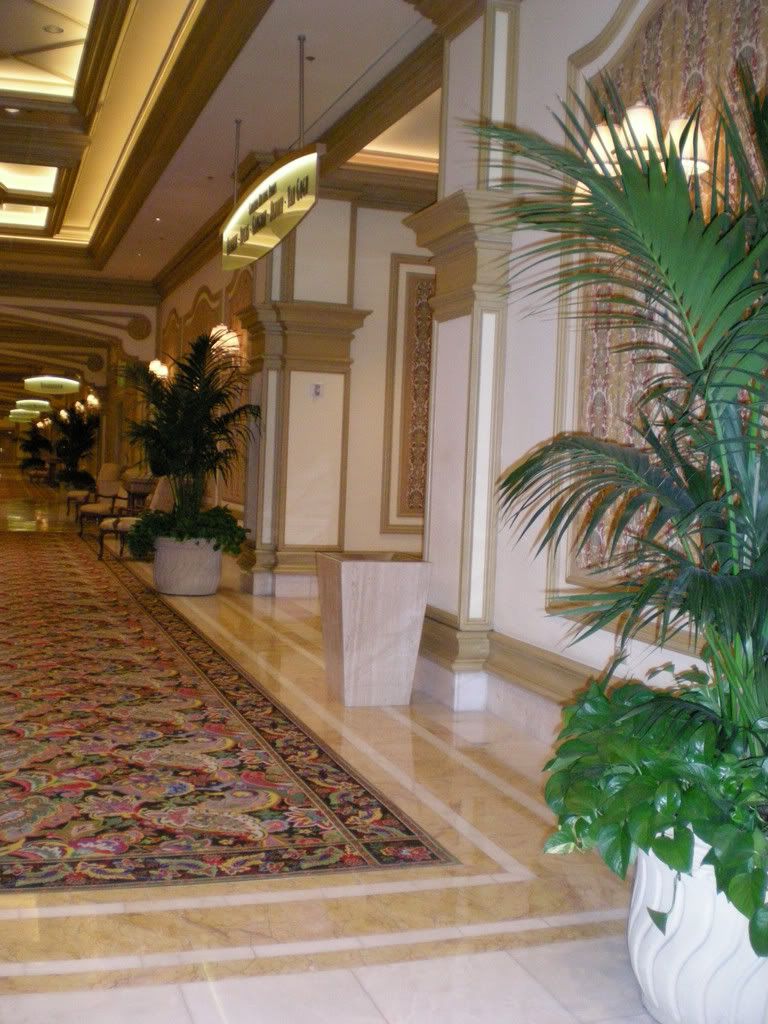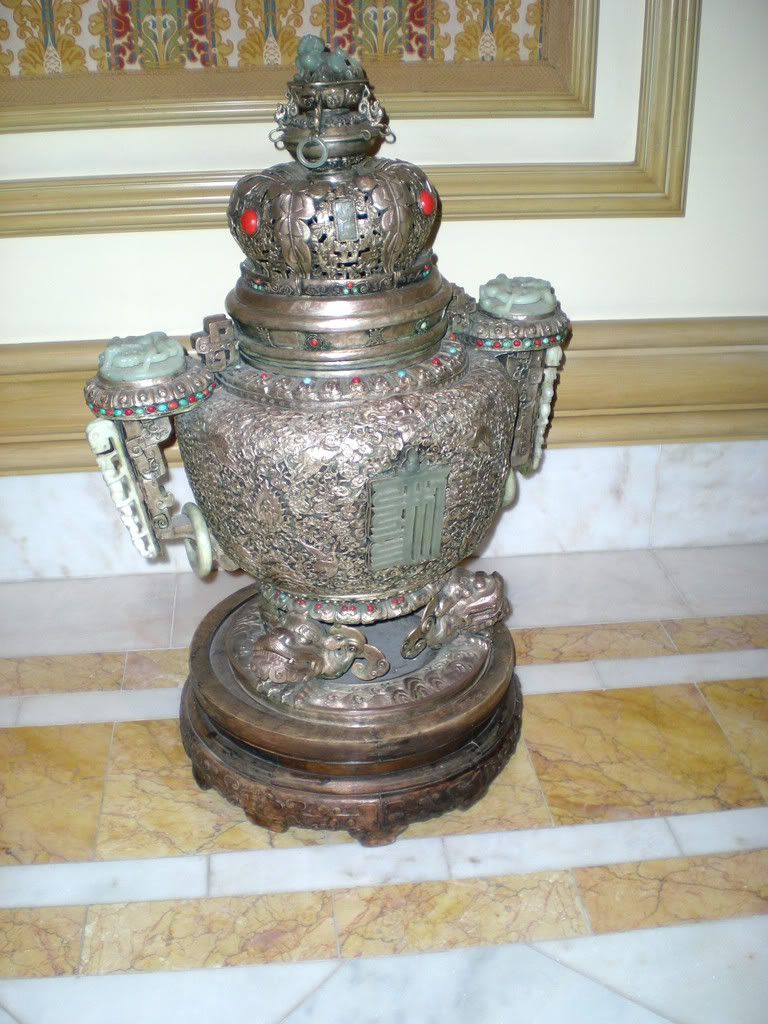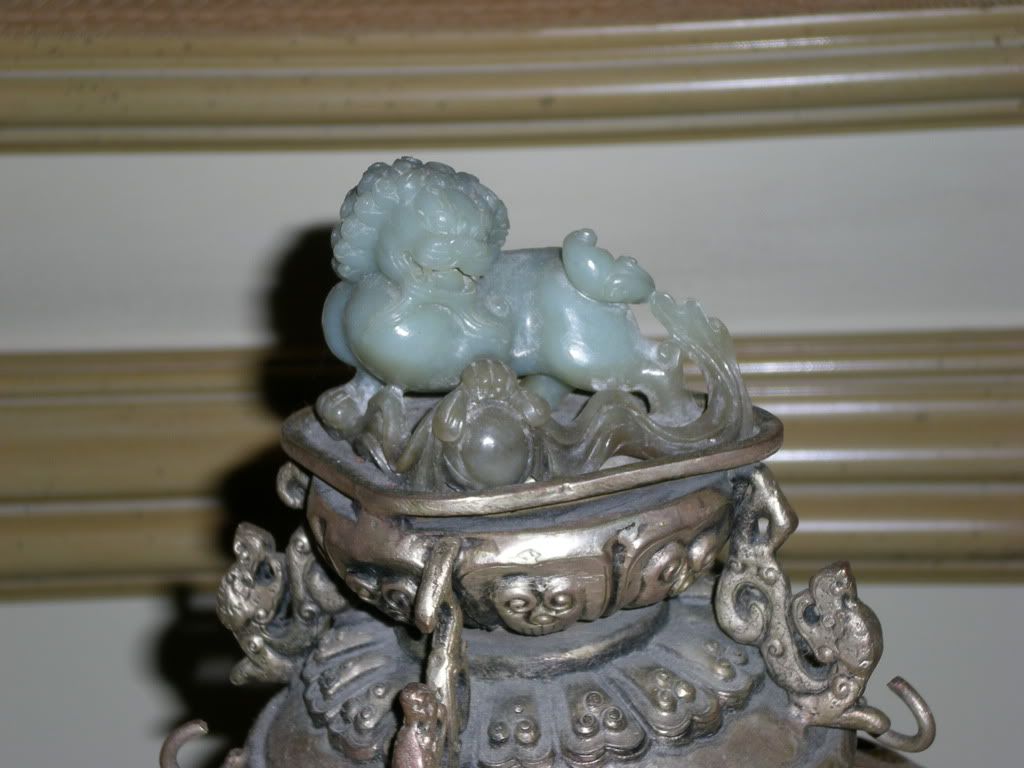 Look, a monolith!
Lunch was at Planet Hollywood, directly across from the Bellagio in the pictures of the strip. We found a little restaurant called Trader Vic's which was sort of a tiki inspired place that served upscale Asian and Polynesian food. We shared a nibble of lobster pot stickers. Yummy! We also had some good drinks whose name I don't recall made with Trader Vic's own blend of light and dark rums. We met these people next to us while chatting with our bartenders who were drinking from something called the Tiki Bowl, but we all agreed that in the photo it looked like there were smoking from it, so they dubbed it the Tiki Bong. The asked if the story we would tell would say "these train wrecks we met" but I said no, its just for the Tiki Bong, although that was pretty funny.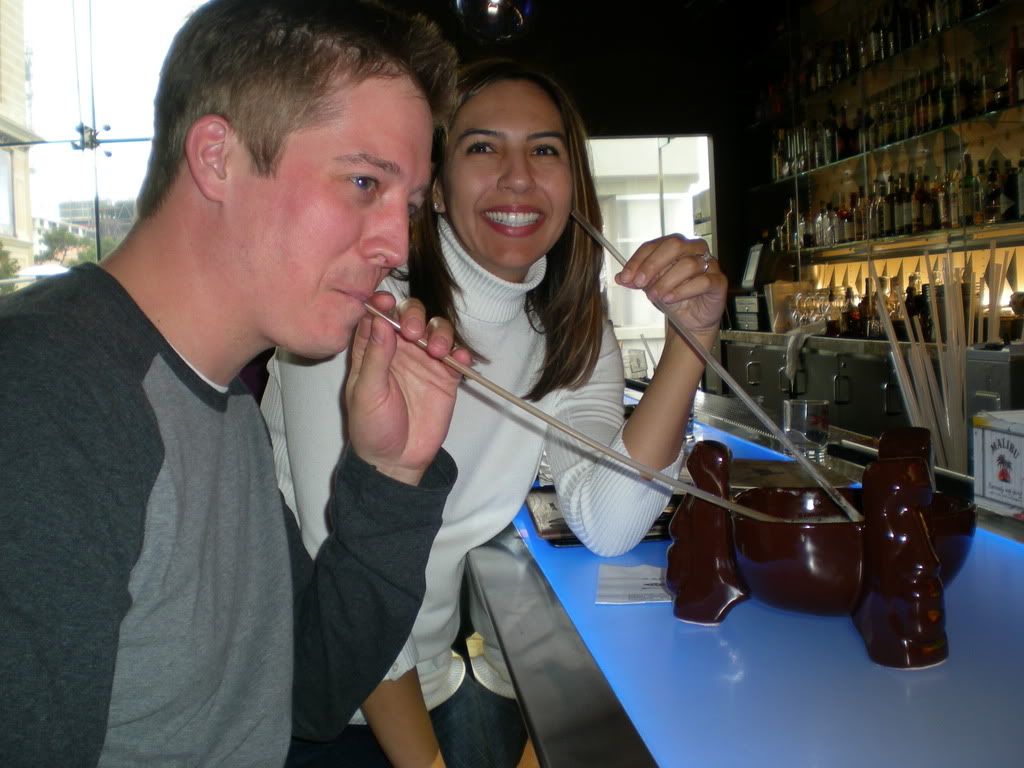 We also stopped into the M&M Store, which offered every color of M&M available. The clouds parted and a light from heaven shone down upon them all.
Random images from wandering up the strip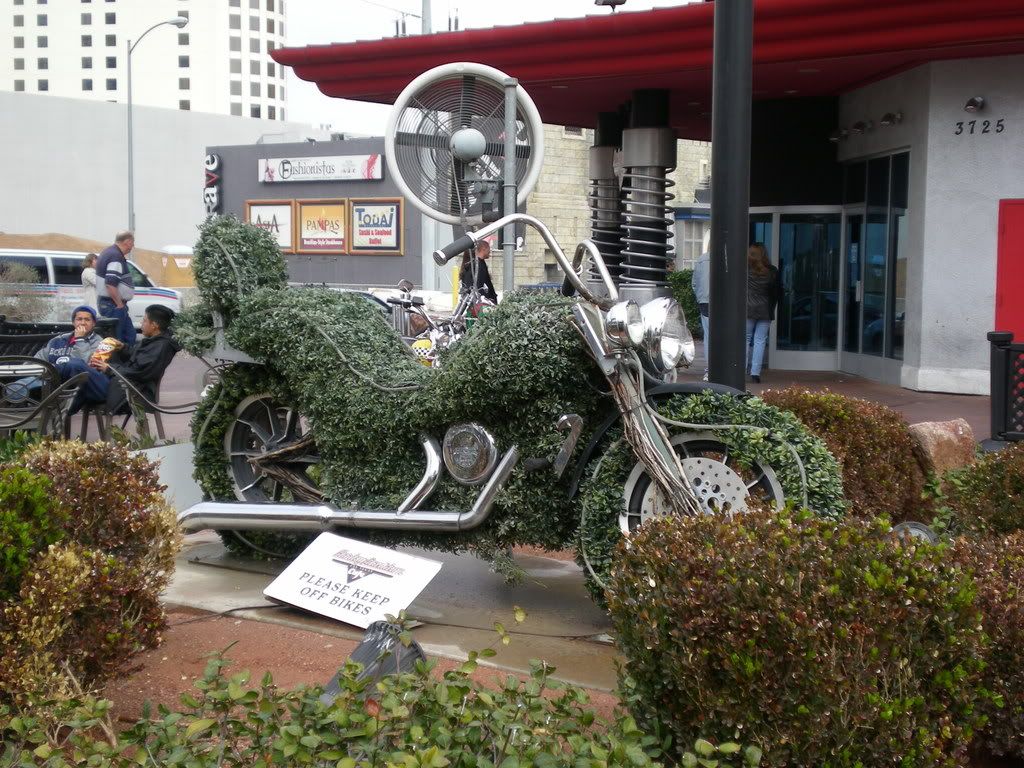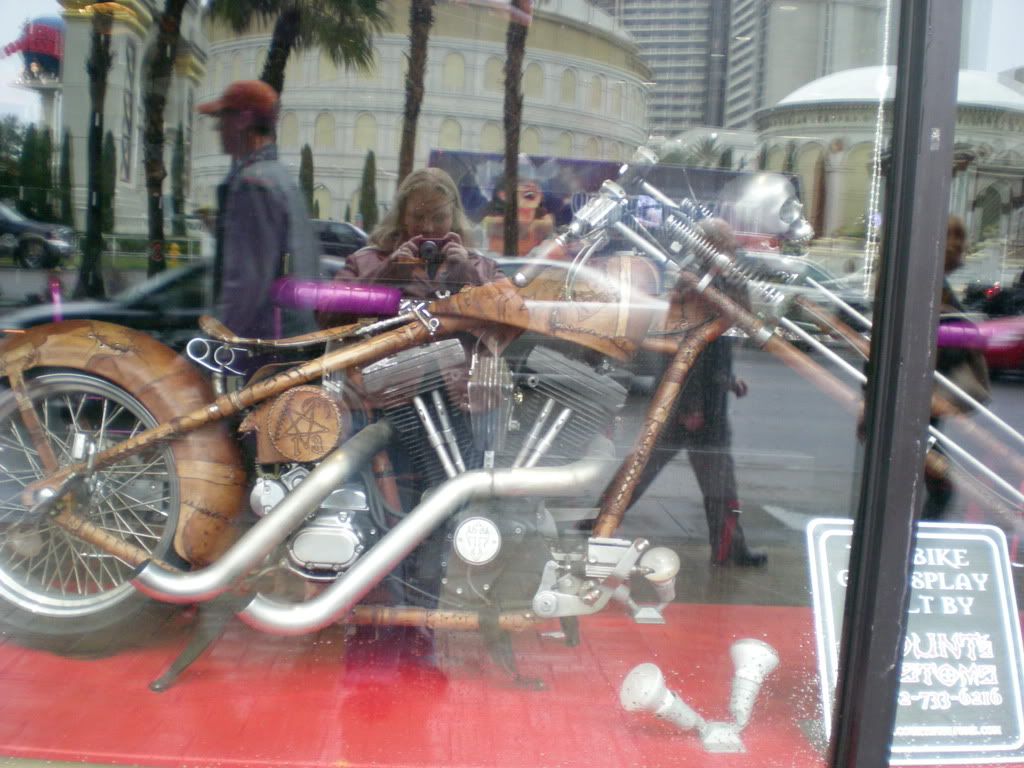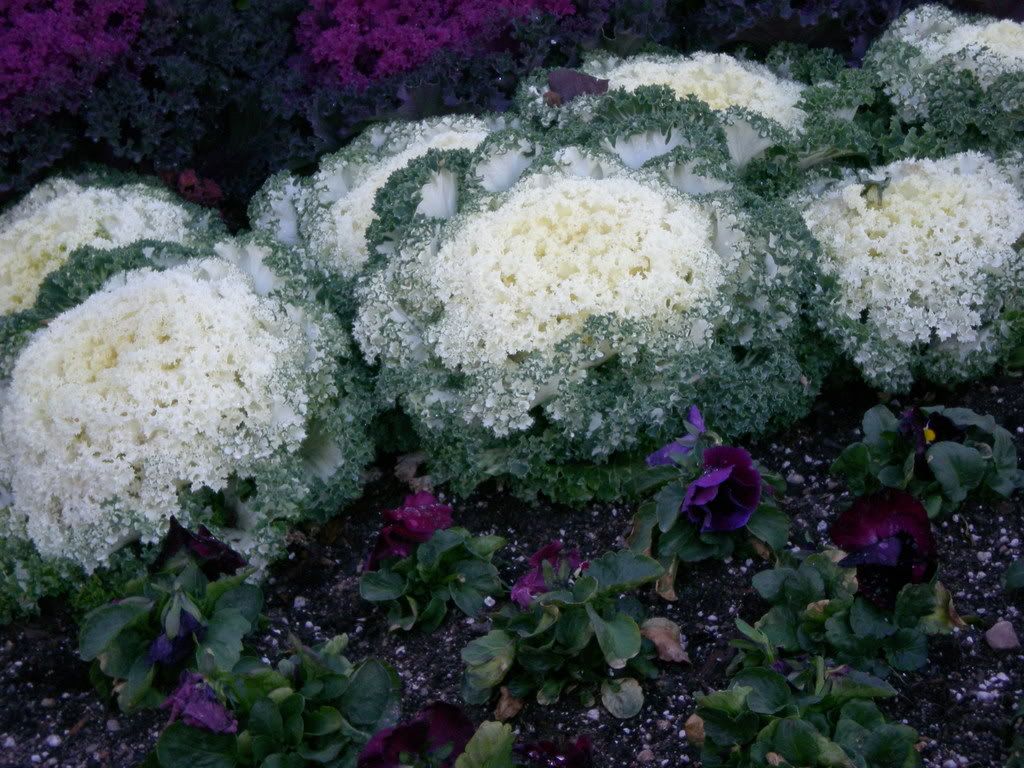 Quadraliths?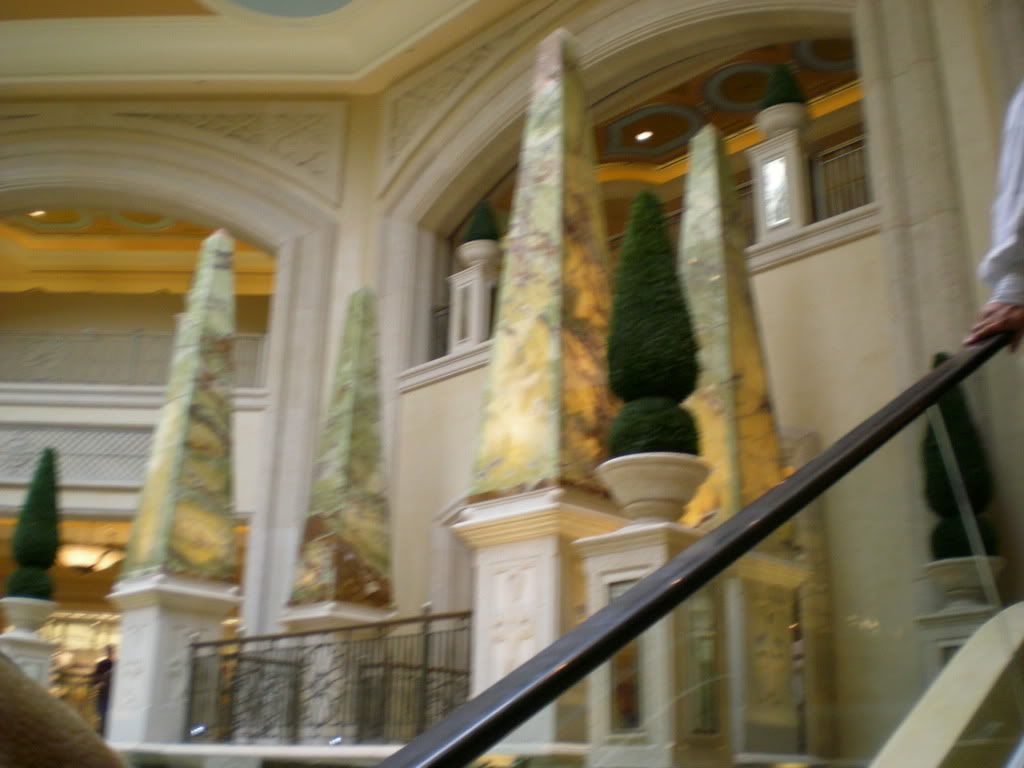 The hotels were pushing these condos in CityCenter (CityCentre?) which is being built to "change the Vegas skyline".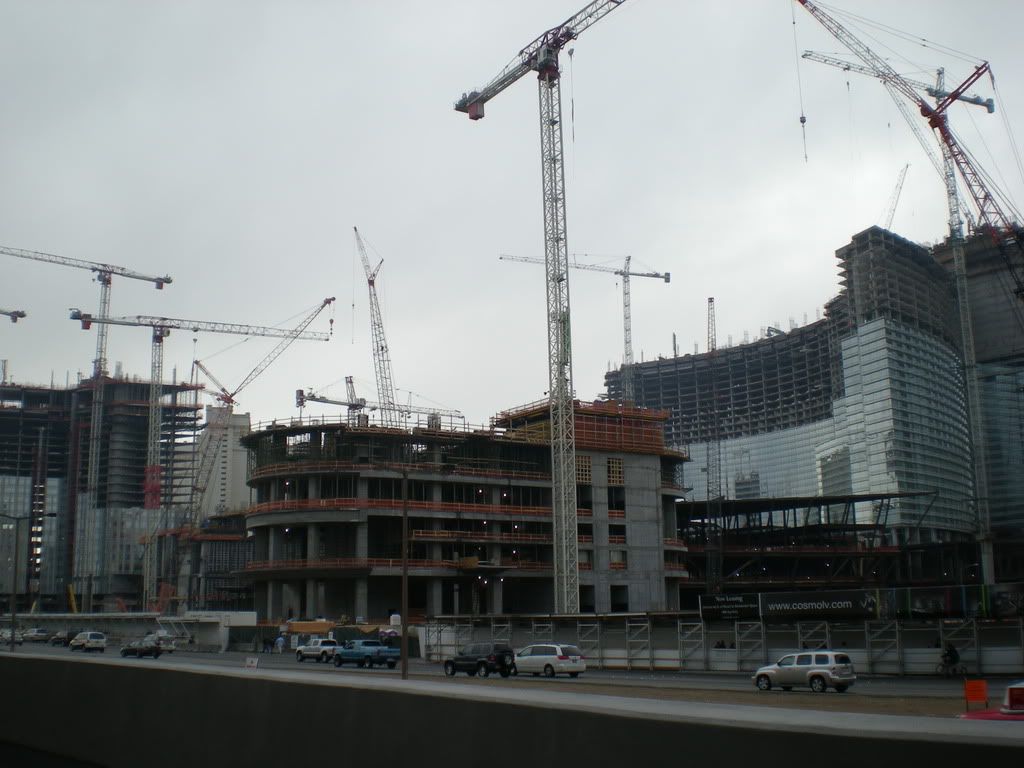 The Venetian was pretty cool for its architecture (did I mention how boring the Palms was? I mean, its Vegas, try a little, impress me, but no) and the shops had nifty things like the very creepy display of marionettes in one store. They also had a canal ride which we wanted to check out, on recommendation to "see the gondolas", but the line was long and standing in line wasn't on our minds that day. We saw a bit of their show, which consisted of courtiers dancing and jugglers on stilts. Anything on stilts impresses me, but the show was otherwise boring. We thought their living statue moved too much.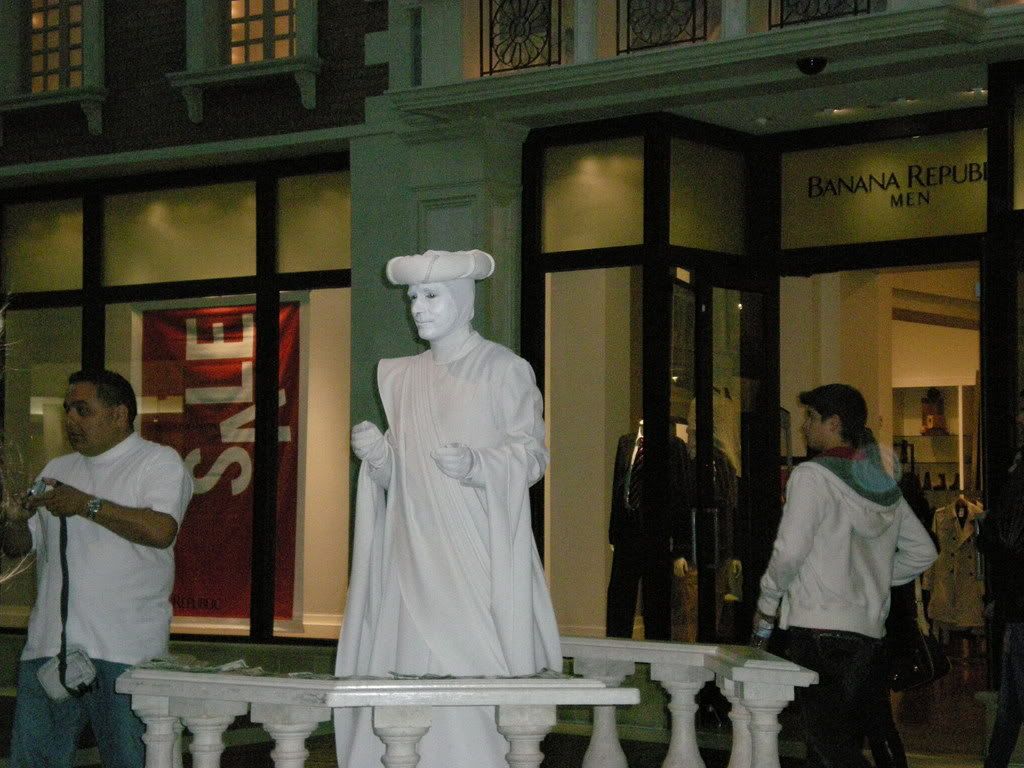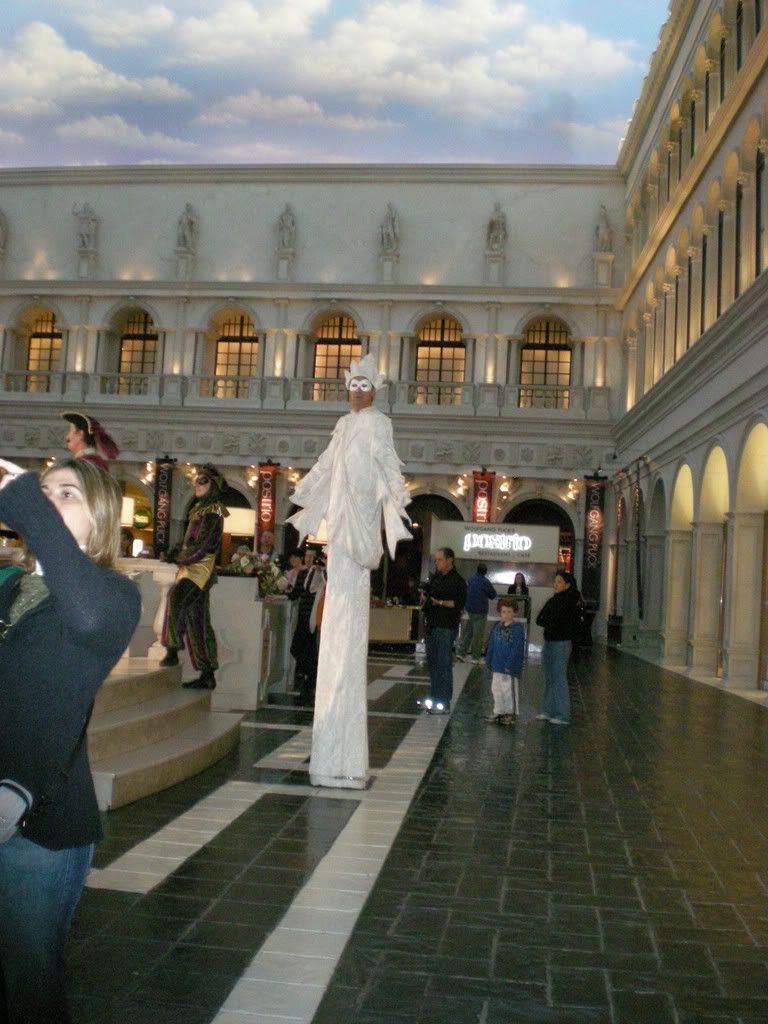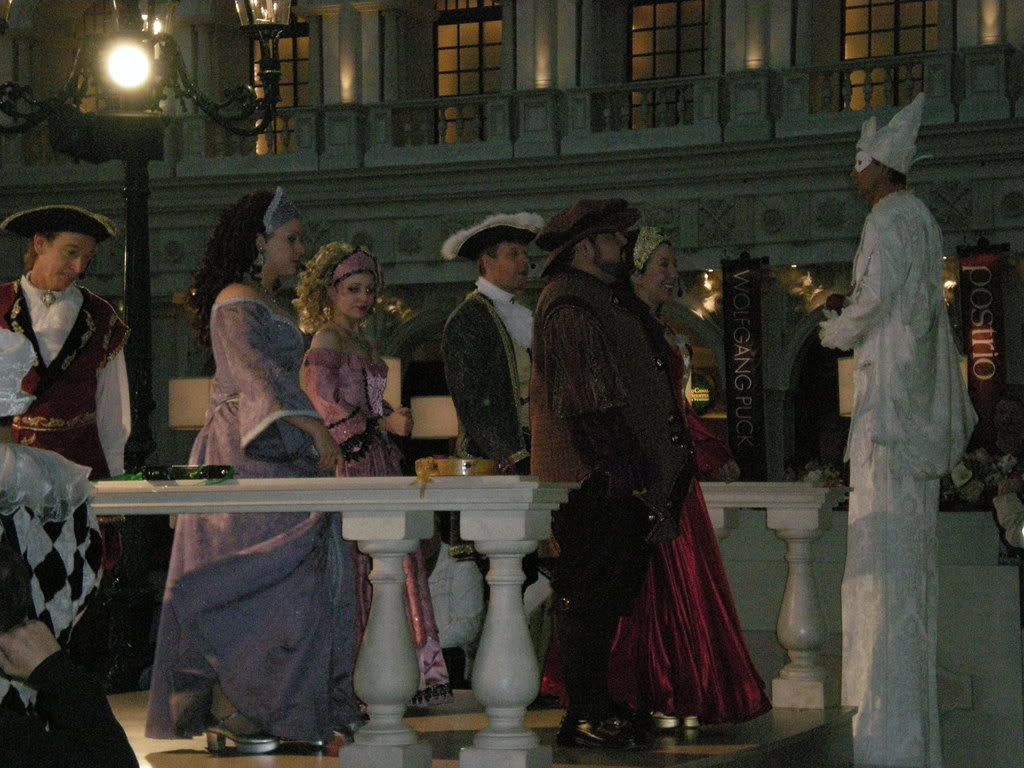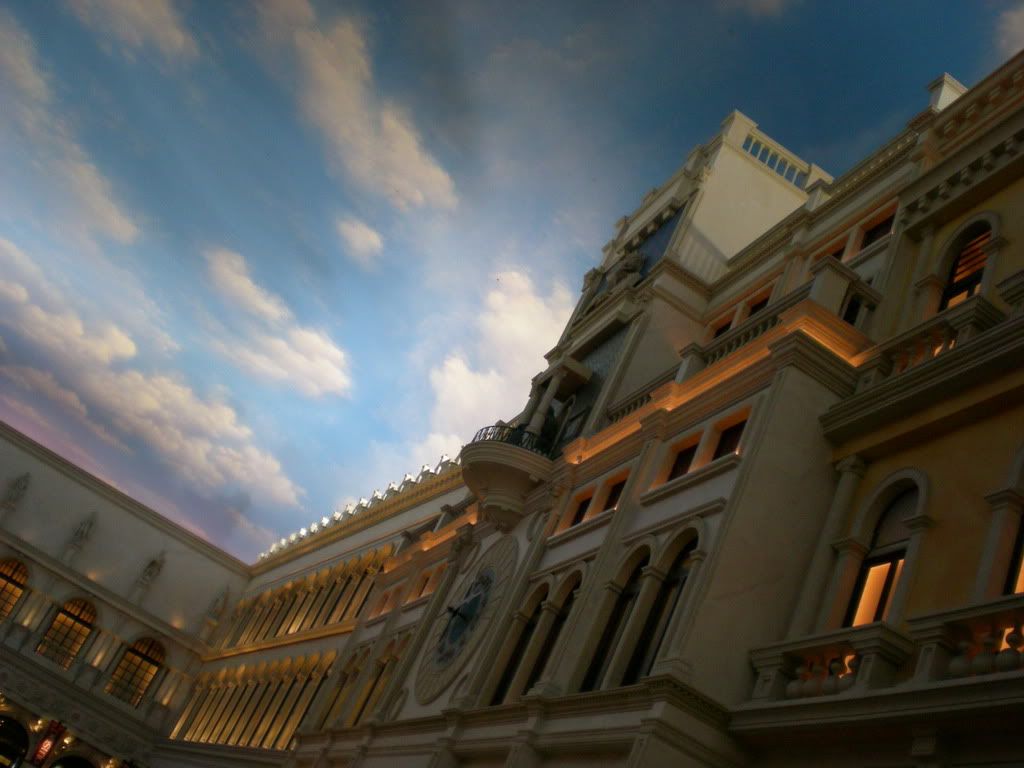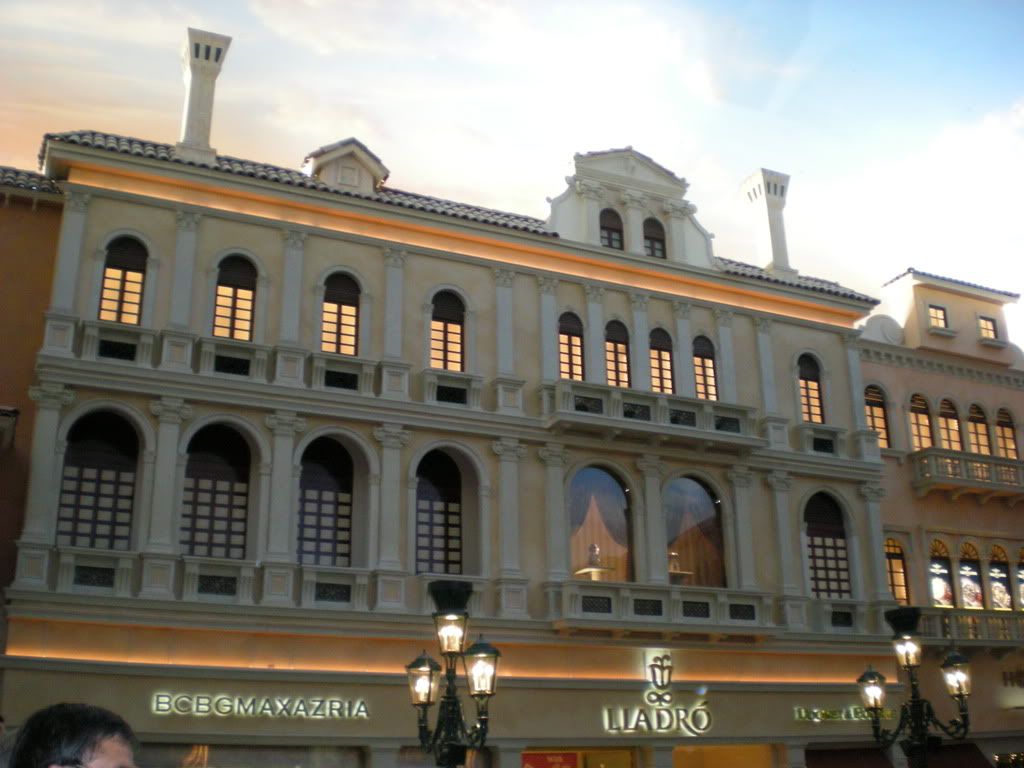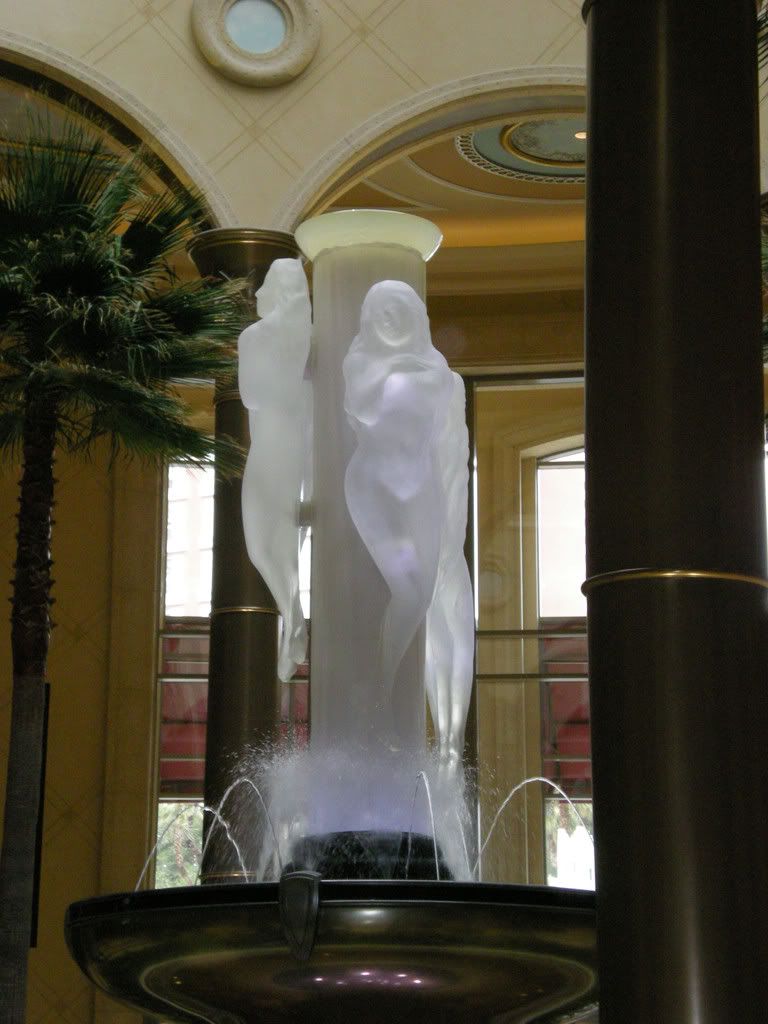 Oh, and we had Gelato for the first time near the pool area of Bellagio It was good. I had berry and Dave had chocolate.
That evening we saw
O by Cirque du Soleil.
The show was absolutely amazing. I've seen 6 Cirque shows now and the ones that do not travel are my favorites. La Nouba was my favorite until I saw O. The use of color, of lighting, of sets, and of course the acrobatics and gymnastics was...I don't even have words. It was just classically Cirque impressive. The fact that they did this all while the stage and the actors were soaking wet added that extra element of "Wow!" to the performance.
After O we had dinner at
Sensi
, a 5-diamond place, according to AAA. I ordered some kind of a sampler that was little bits of chicken, fish, prawns (bigger than my thumb, giant prawns), and some kind of beef that literally dissolved in my mouth. If "pre-chewed" wasn't a bad thing, it would describe their food. All so tender and melty. Dave had some awesome fish covered in a miso-ginger froth. Unfortunately, we were too full for dessert; rich food.
Day 3

Our last day in Vegas was still a full day. It was also our anniversary. We slept in (for us, but it was still early for Vegas), and wandered down to get an ashiatsu massage in the
Bellagio spa
. In fact, the main reason we stayed at the Bellagio (instead of the MGM Grand where we like to gamble) is that their spa is only open to their guests and they offered ashiatsu, which is hard to find. Ashiatsu is when the masseuse walks on your back, massaging you with their feet, and holding onto wooden bars in the ceiling above you. It was the best massage I've ever had. Dave said the same. The spa was absolutely beautiful and had four square tubs in one section, 3 hot and 1 cold, that were clothing optional. There was also a "meditation room" that had tile walls with candles set on platforms and water running down them and there were loungers to rest on while soothing light played at the ceiling level in different colors. Ah, 5-star all the way!
We tried to print our boarding passes but found out Expedia fucked us yet again (oh, I can't wait to fill out their "customer satisfaction survey"!) and told us not only the wrong flight number and confirmation code, but the wrong airline. Can you imagine? Everything that Expedia could do wrong, they've done. Never ever use them. Book direct.
We spent most of the day at the MGM Grand where I played awesome craps and was a great shooter. I walked away from the table, reluctantly, with $65 in my pocket down from just $100 on craps. We played one turn of roulette to play our anniversary, but didn't win. Slots were fun also and I kept getting the "bonus" stuff wherever I played. Dave was disappointed to not get the bonus screens as often. There was a crazy woman from New York next to us for a short time, playing craps. It was her first time playing and she was all excited. Kind of funny, but kind of annoying too. She was very high energy and I was just there to play, you know?
We spent some time at our favorite bar in Vegas, Centrifuge, in the MGM Grand. I swear the bar spins very slowly (or did last time we were there) but Dave disagrees and says it never spun. Its a round bar opposite the lion enclosure (privately owned lions are displayed a few times a day with their trainers) that is round and every so many songs, all the bartenders jump up and dance together in a choreographed way. There was a hot Asian girl bartender who took most of our attention while we were drinking there. Centrifuge has to be one of the world's most perfect places - probably right on top of a pit that leads to hell. There's no good jazz in heaven anyhow.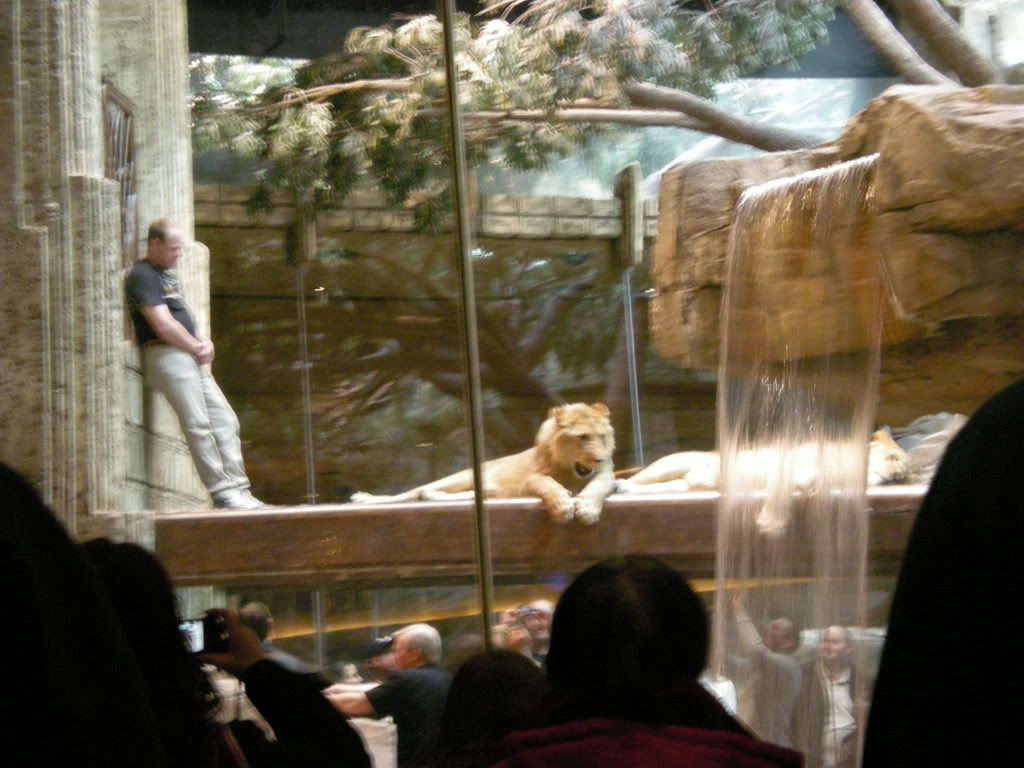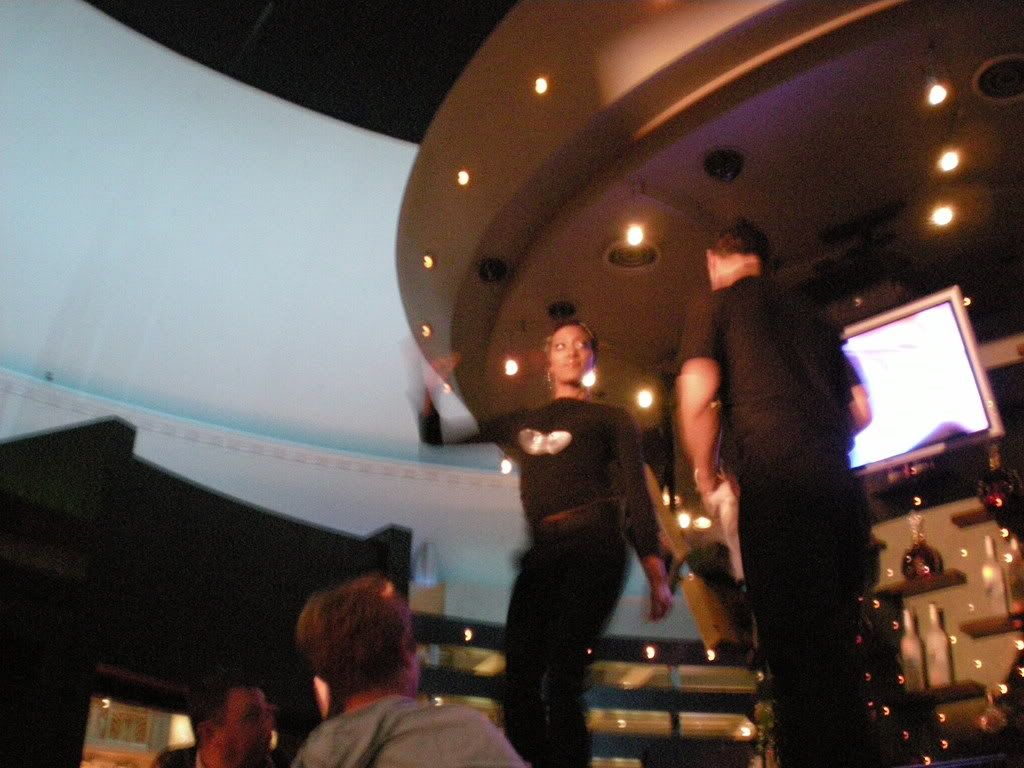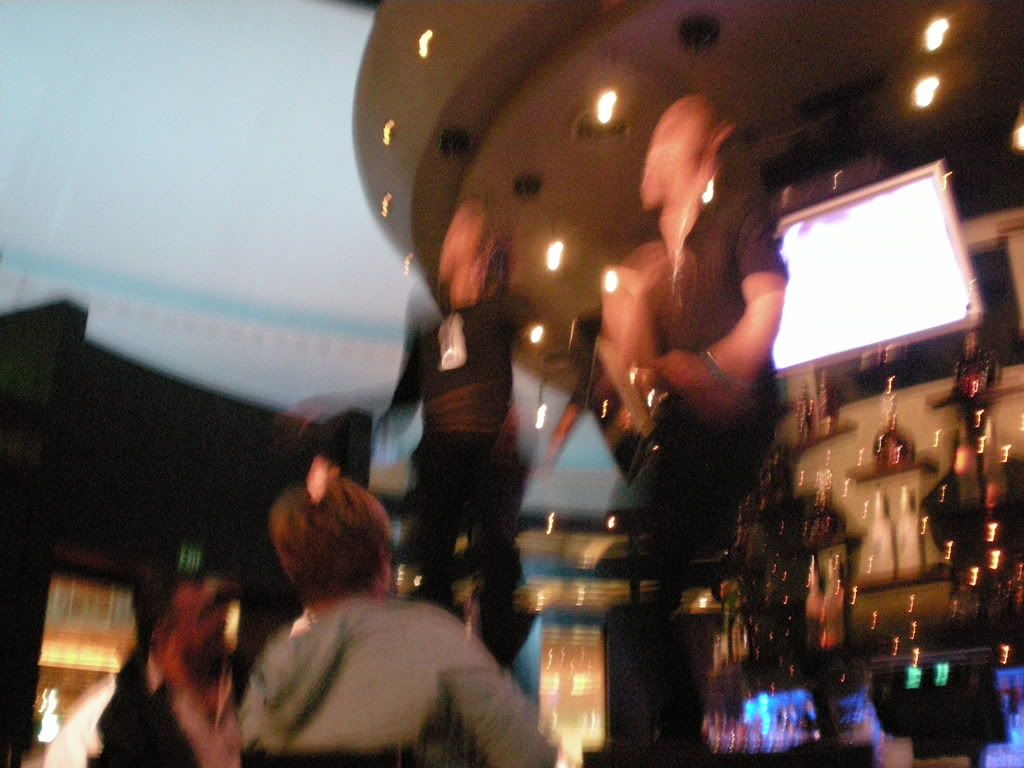 And I tried to win a Viper. How cool would it be to come home saying "And I won a fucking Viper!" Of course, I'd have taken the value, not the car, but still.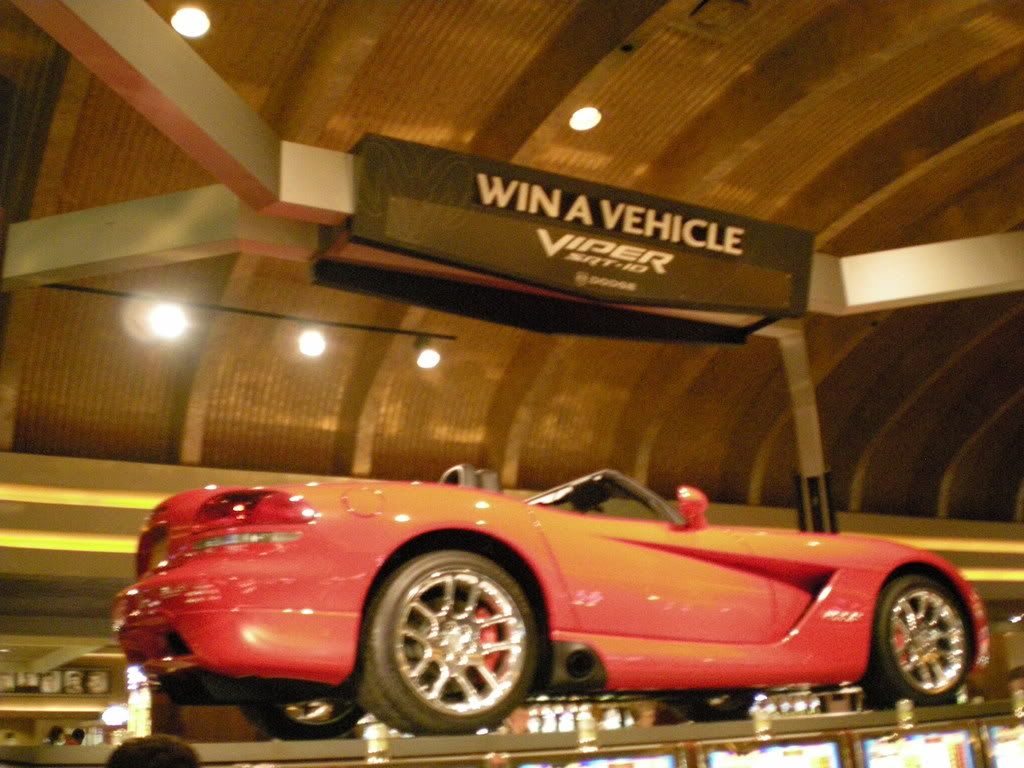 We tried to get in some pictures of us but there was a huge group of Japanese tourists in a very stereotypical way with a tour guide with a flag and lots of cameras. Dave could get the background to come out okay, but my camera does portraits by separating the light to black out the background and we don't know the camera well enough to change it yet. Ah well. Here's the final shots of Vegas.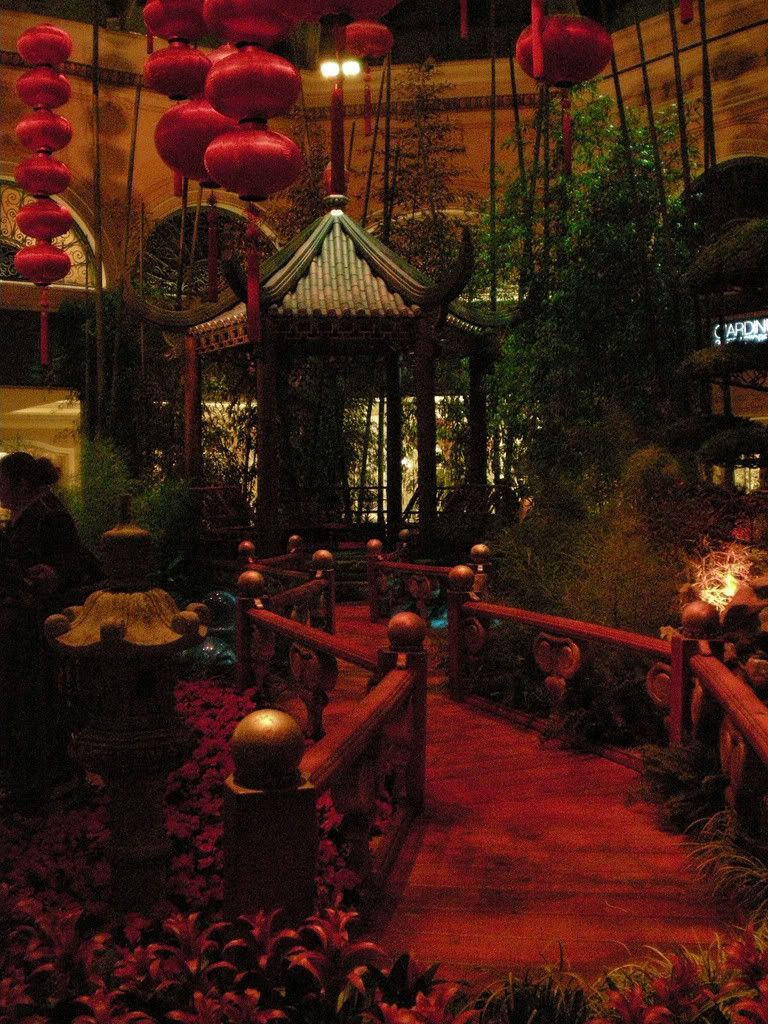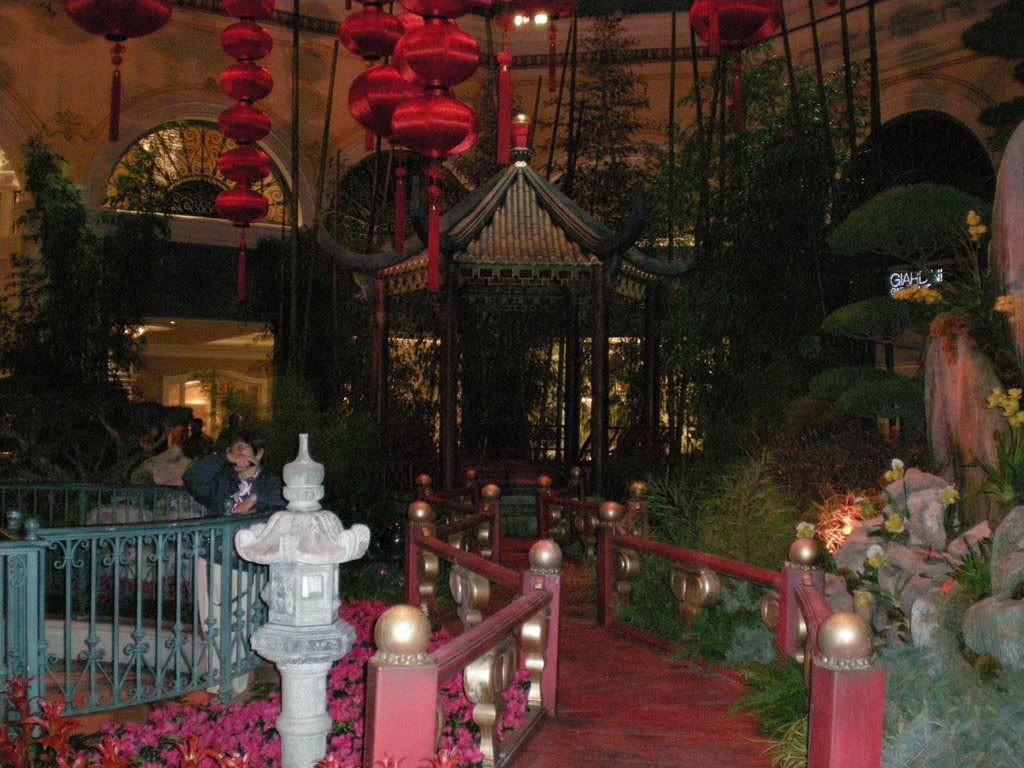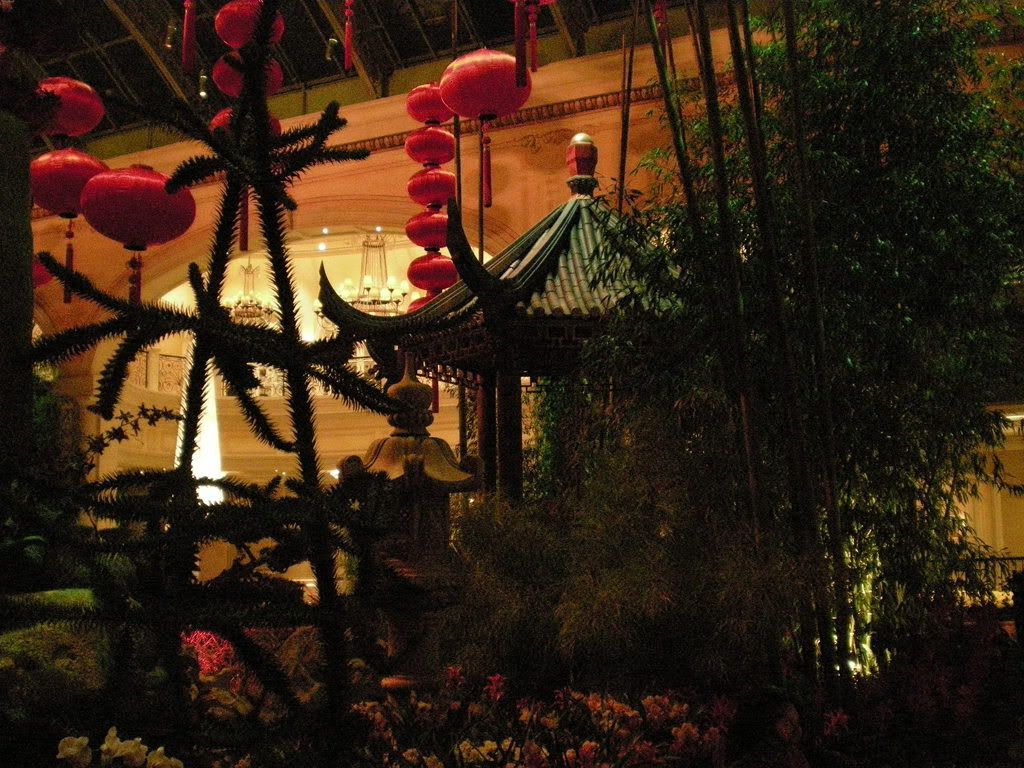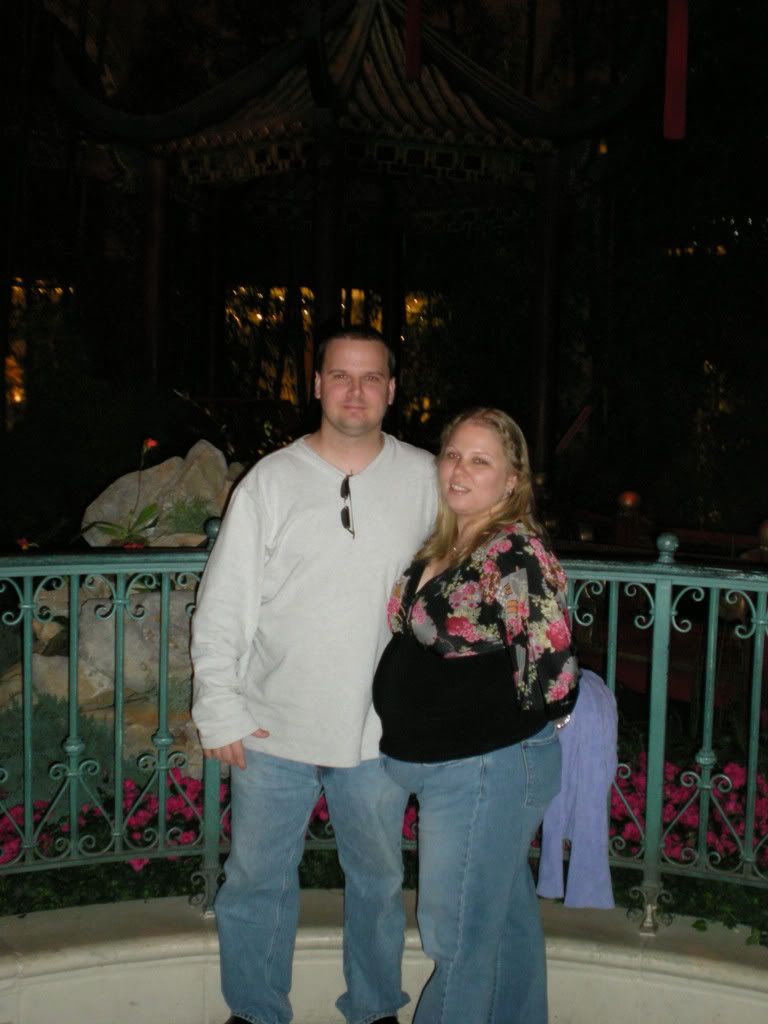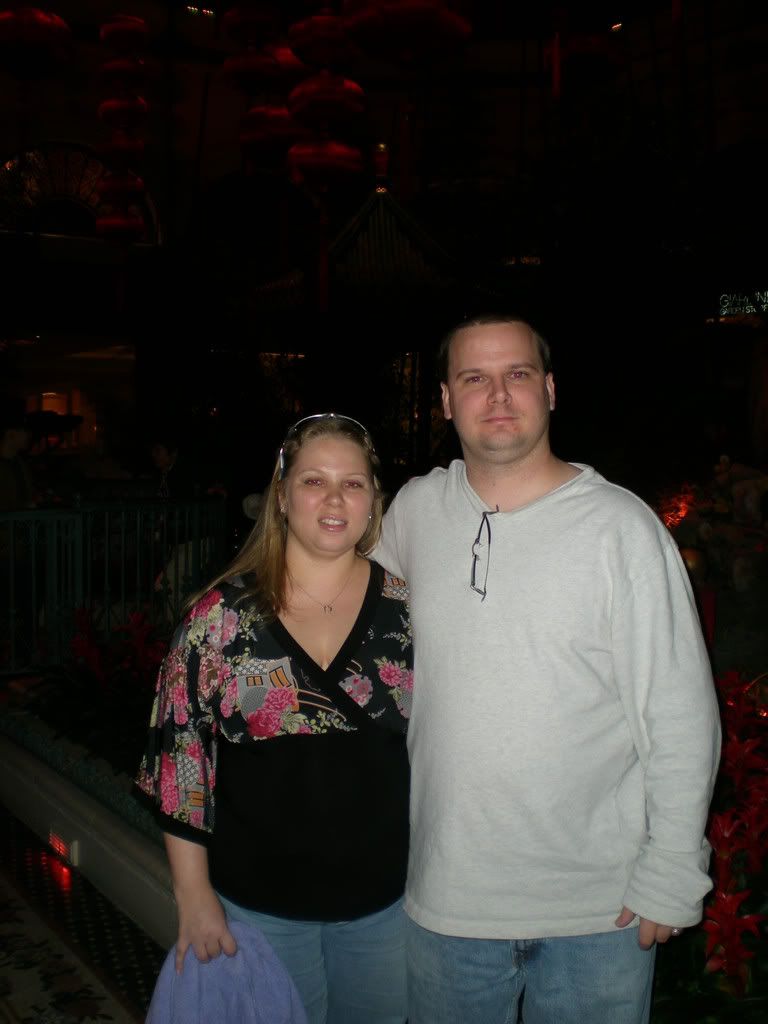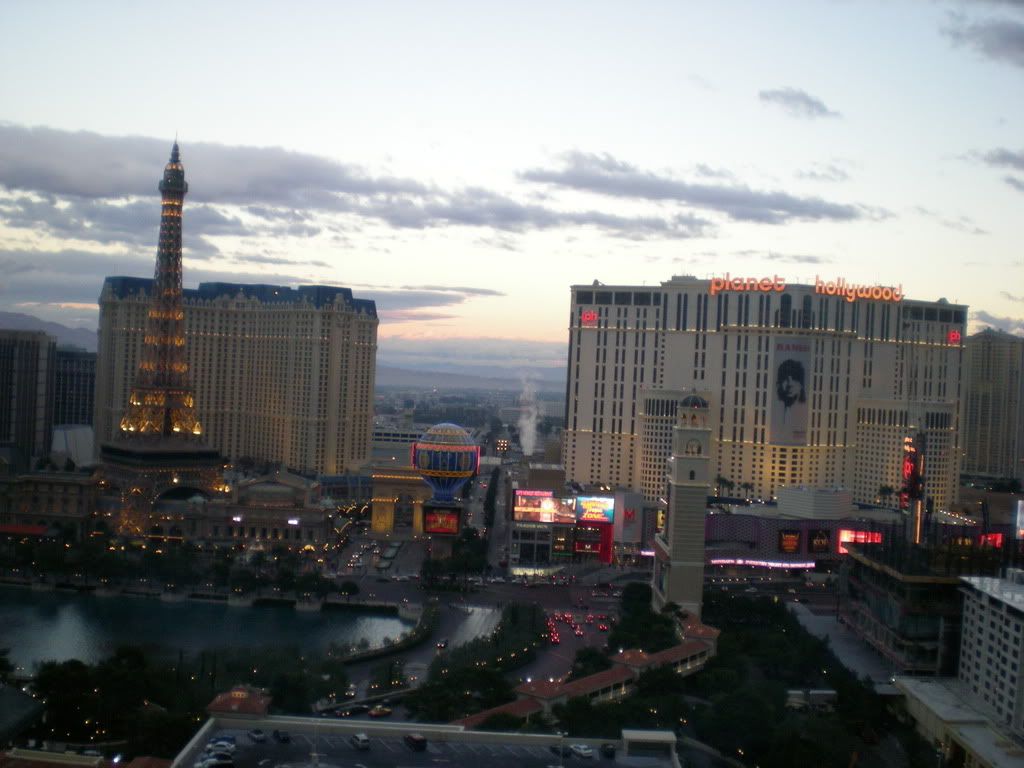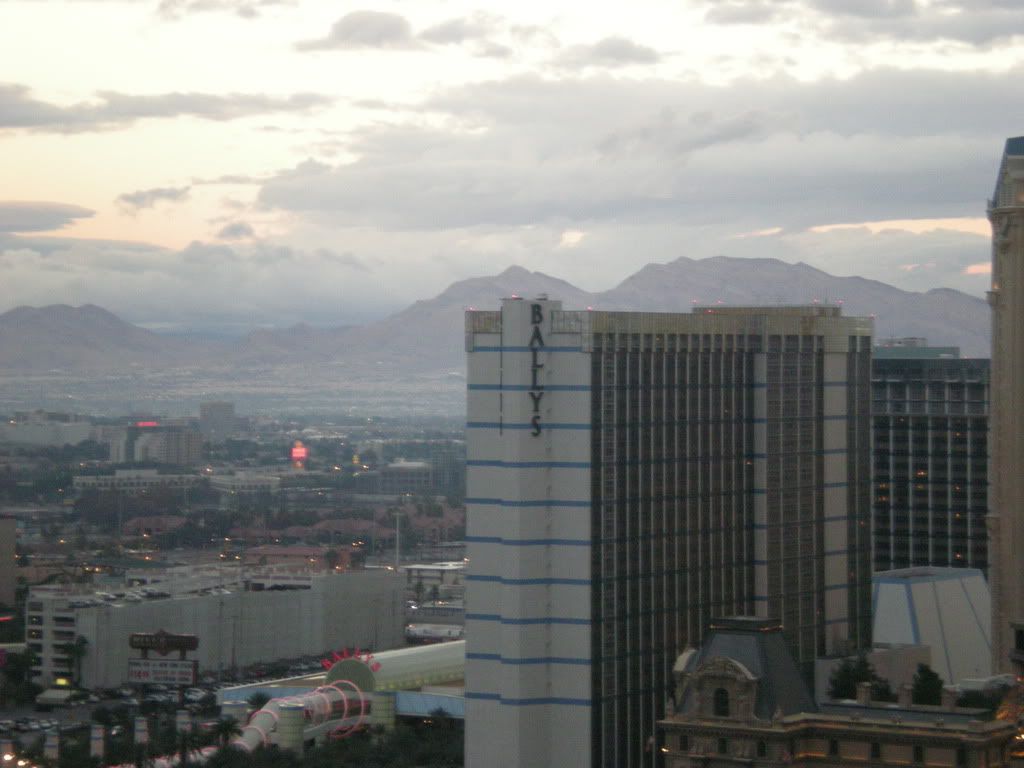 As a surprise, I booked a limo to tote us around Vegas for an hour or so before our flight and to get us to the airport. Neither of us had ever ridden in a limo before, so it was a cool experience. Our driver froze us out by leaving his windows open, but showed us the famous Vegas sign and all the casinos and even the lame Freemont experience which we could see through our sunroof as we drove under it.
Day 4
Then we travelled - and travelled, and travelled forever. Our flight started at midnight. We landed in Chicago at some ungodly hour like 5am and had just under an hour to get to our connection. Sounds easy, right? The connecting flight was in the last concourse, which took a train to get to. Okay, no problem. Except that there were no signs and everyone we asked wasn't sure which concourse we needed. Once we got 2 same answers in a row, we headed that way and found we had to go up, but the elevator and escalator were broken. Fun! So we lugged our bags up (exhausted and before 6am) the "escalator is temporarily stairs" and after waiting for the train to come by, got to our gate just as they were calling our flight to board - and we hadn't even checked in with the ticket counter yet. Grr. But, we made our flight and tried again to go to sleep. It was futile. The seats hurt our butts and we couldn't rest more than 10 minute naps here and there.
It was after noon (more than 12 hours of travelling) when we arrived in Jamaica. We got our passports stamped for the first time, which was kind of exciting. Clearing customs there was super easy. SuperClubs essentially stole our luggage and placed it, unattended, in a corner for the bellman to take it to transportation. Much different than the US where they insist you keep a hand on your baggage at all time. The contrast made me laugh. Us uptight Americans. They gave us little bottles of water that said "Likkle Wata" on them, which I thought so funny. After a bit, a man came to take our bags to the van. He essentially demanded a tip for carrying our rolling luggage 50 feet. Ridiculous. Anyhow, we rode in this 1970s van through Mr Toad's Irie Ride of the countryside stopping at about 4 hotels on the way to drop off or pick up other people. The ride was nearly 2 hours and it was hot and miserable, plus scary. I couldn't drive in that country. The lanes are single and people pull partly into the shoulder or oncoming traffic to pass.
The countryside was beautiful and green and lush. We saw lots of goats there were apparently wild as well as some in fences and cows and horses and chickens as well.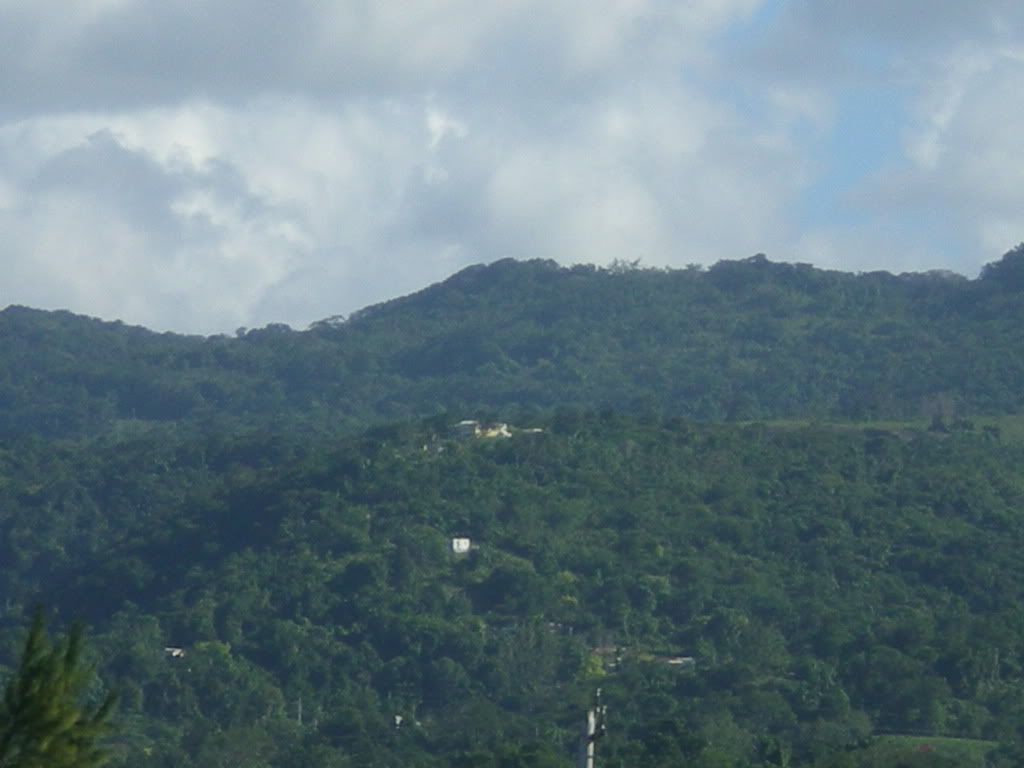 We checked in and got the tour from George who showed us which side was prude (bathing suit required), which was optional (topless essentially), and which was nude (which, he said, is where you get "buck naked"). Our room was nice and our twin beds were converted to a king bed. It was no Bellagio, but was okay. The tub had jacuzzi jets and we utilized that quite a bit, the sand and pool water and salt air being drying. There was a mirror over the bed and over the tub. The one over the bed fogged up when we took showers, which I thought was funny. And it was very warped, which made us look hilarious and not at all sexy. Our room was steps from the boardwalk. I'd say from the water, but you could only access the water here and there from the beaches as the rest was lots of rock. The "no diving" signs were unnecessary as you'd break your face if you attempted it. We could lay in bed and listen to the water breaking on the rocks. Very serene and just what we wanted. We didn't keep the time at all except to say "is today our flight?"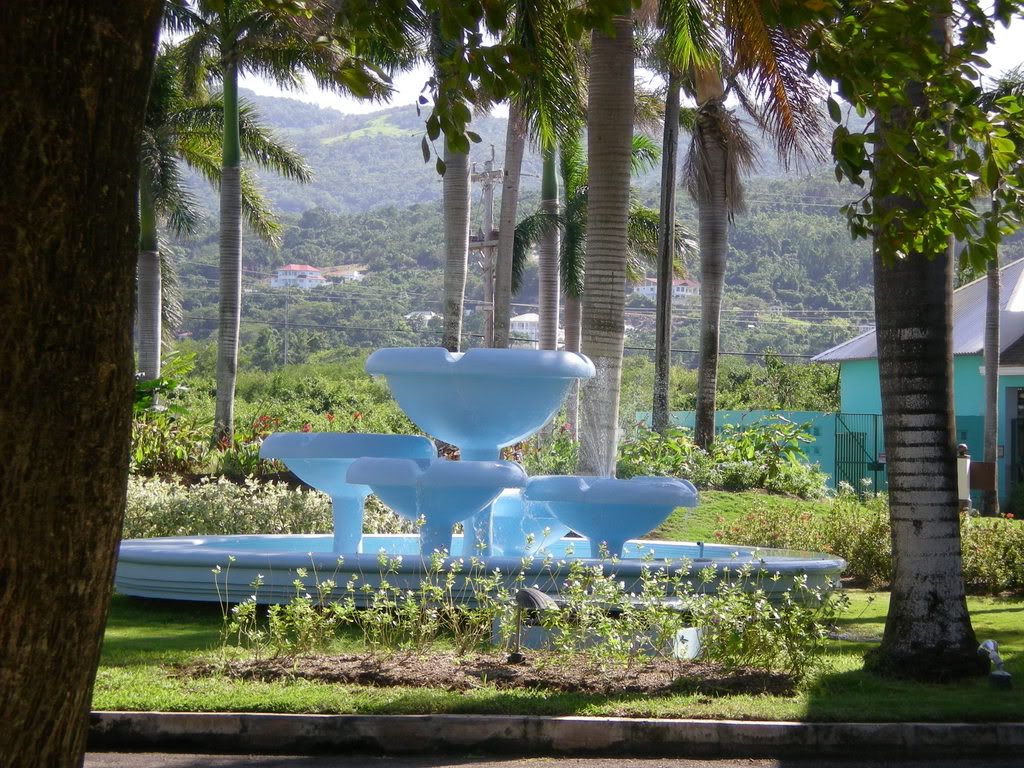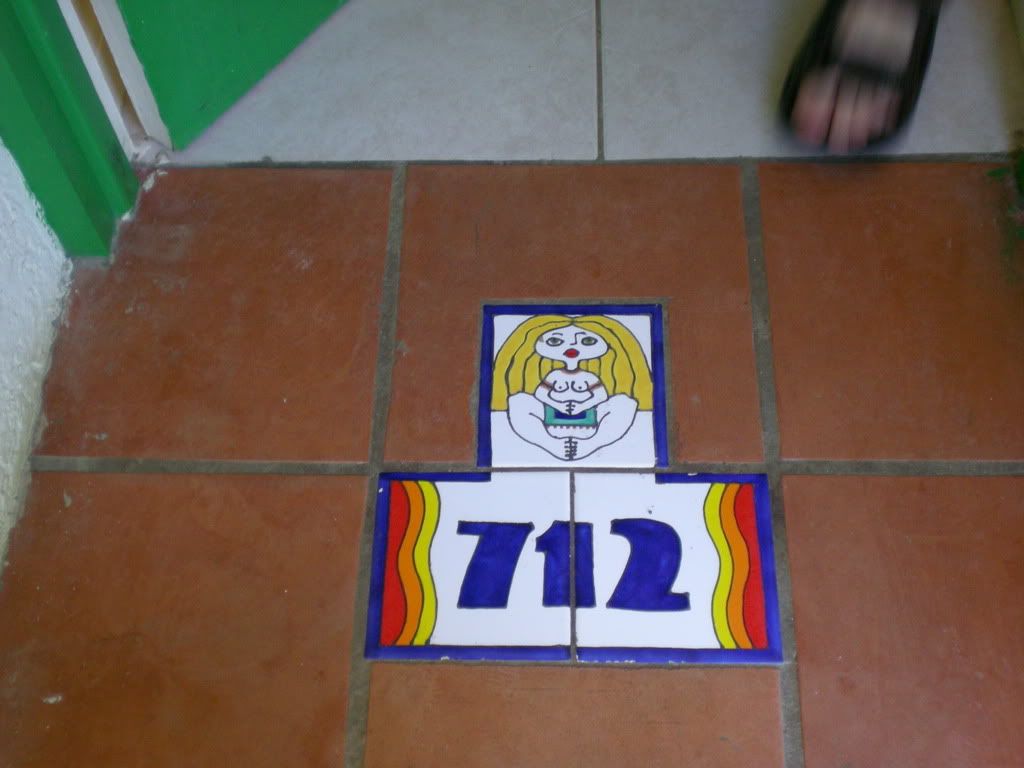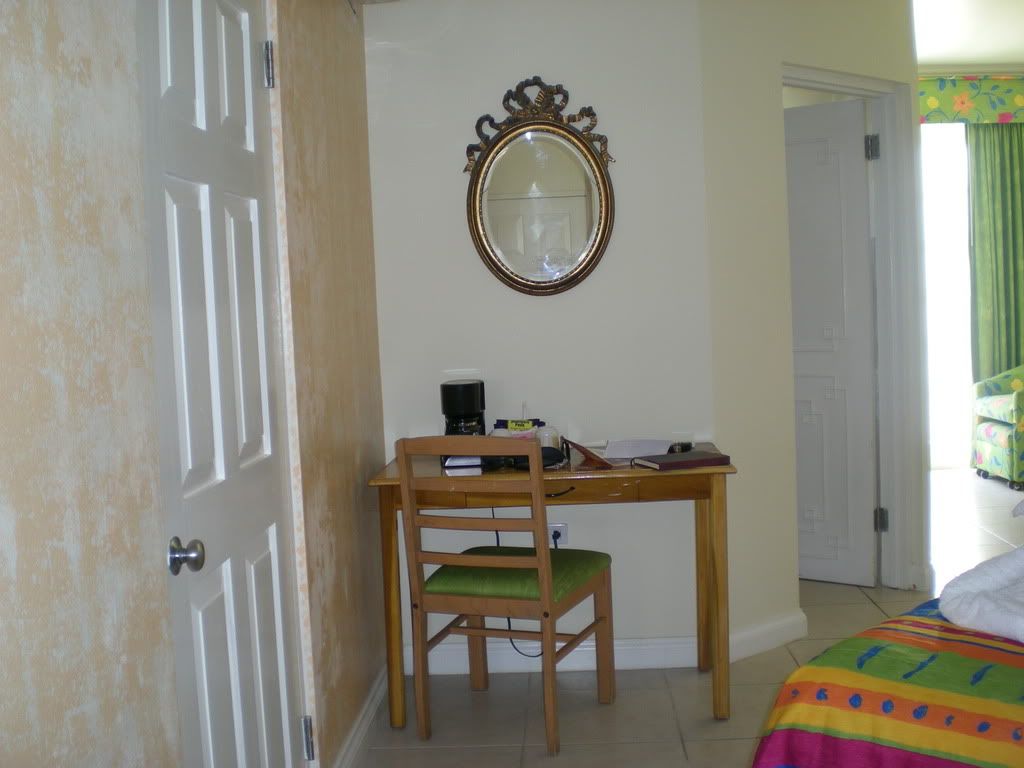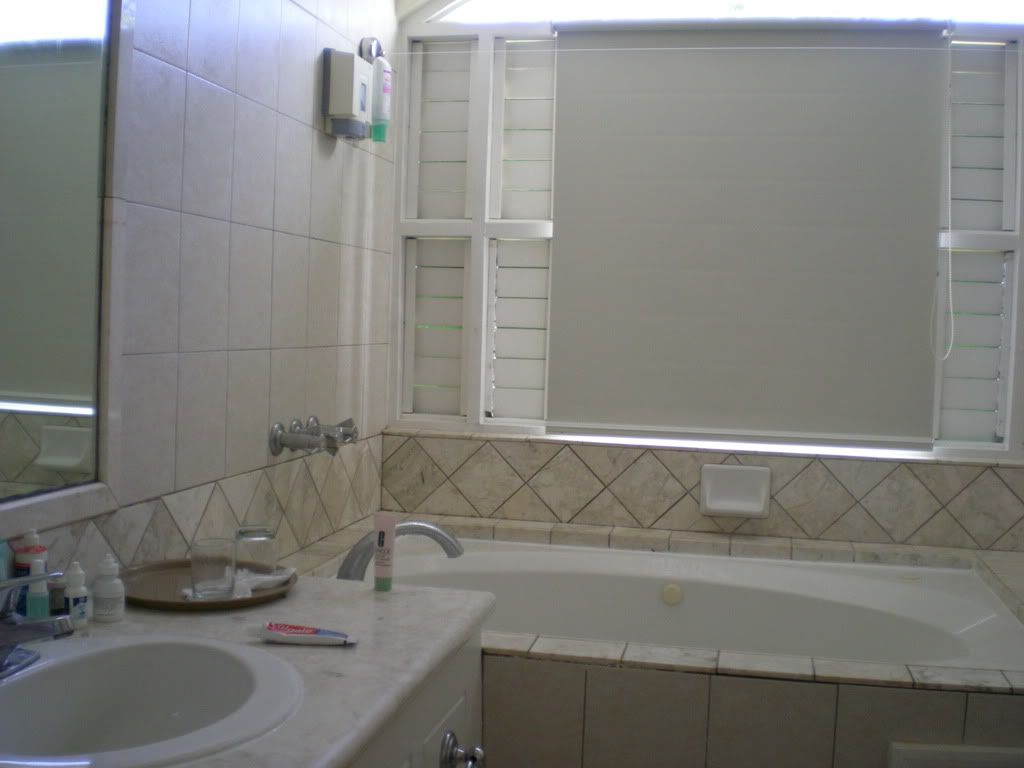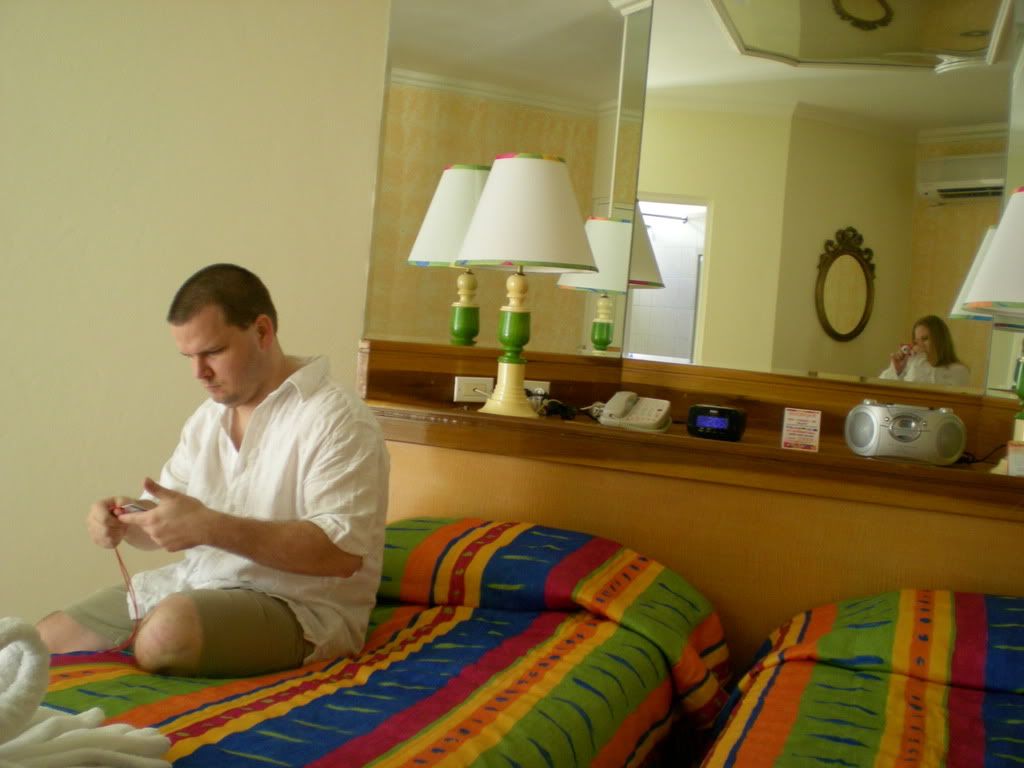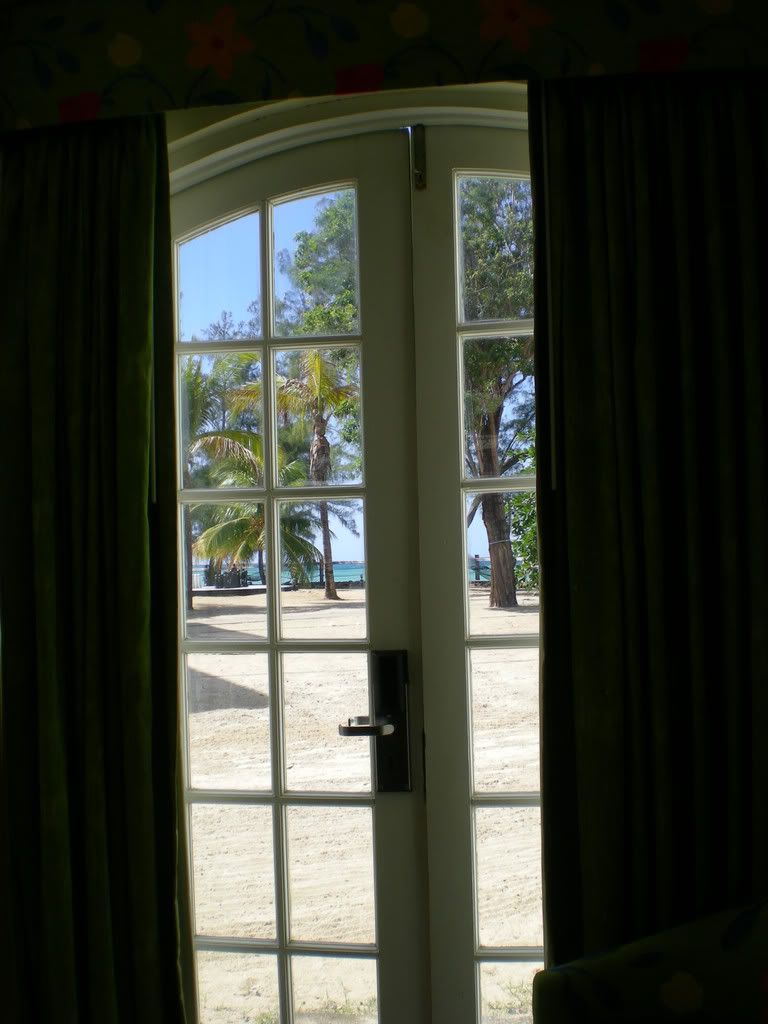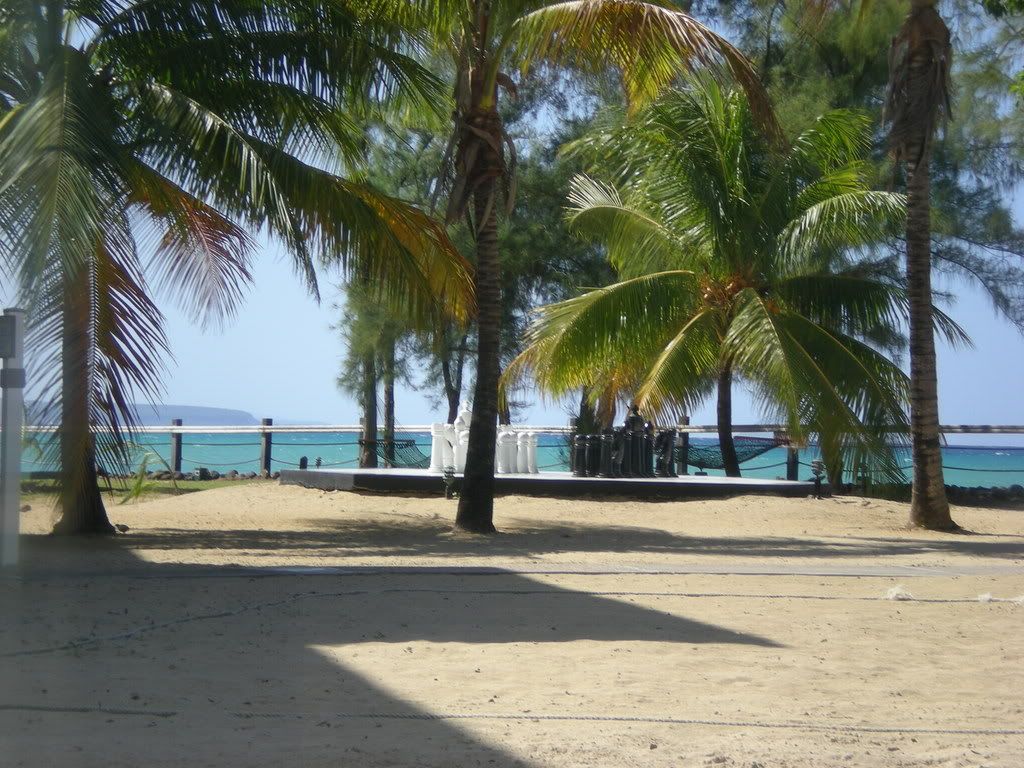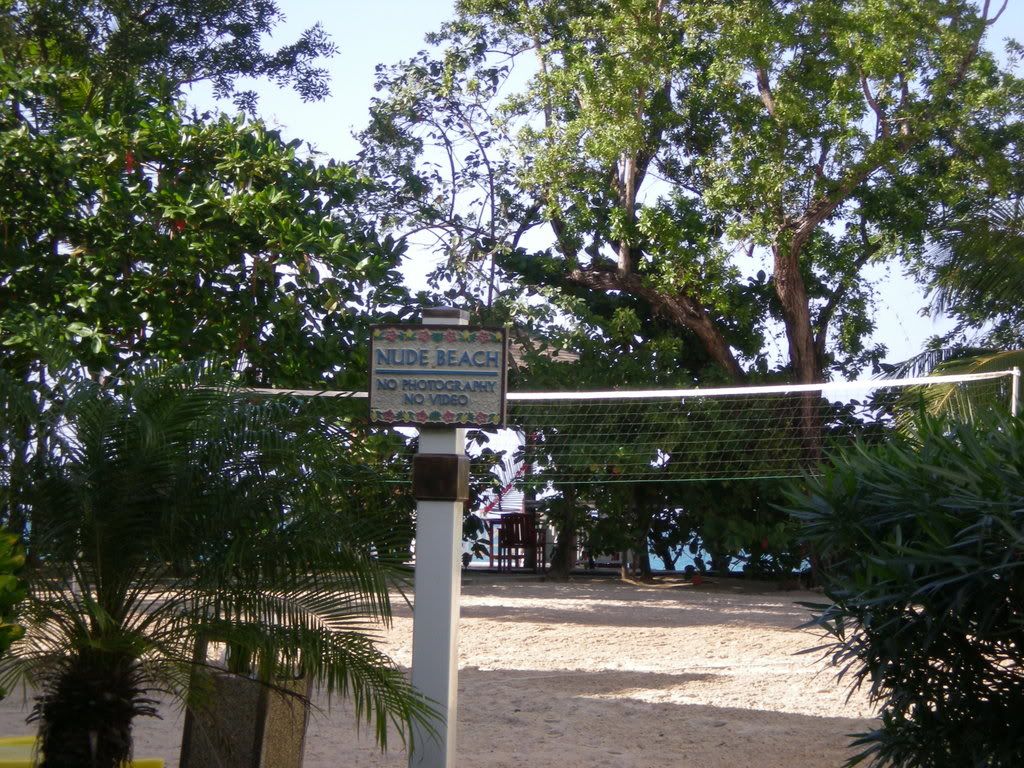 That day we were so wiped out by all the traveling that we really didn't do much. We bought some sunscreen at the gift shop that also sold, ahem, adult novelties (it was Hedonism, after all) and laid around the pool for a short time, ordering drinks and burgers and just relaxing. Then we took a nap for a few hours before hitting the pajama party. Their parties are in the night club. Dave is not one for going dancing, but we wanted to check it out, do the whole experience. We did, then left after awhile. We were more people watching than anything. There was one man dancing on a pole who afterward got off and did this kind of kung fu style thing. We called him Priceline afterward. Lots of people got nicknames. There were: The Brothers Quim, who were two guys that came together but were there to meet women, and I kept hearing the Jaws tuba as they passed new women, Jimmy Buffet wrote "fins to the left fins to the right" about them; Douchey McAsserson, who was a guy there with his girlfriend that he felt the need to show off as if she was his self esteem and talked to everyone even those that wanted to be left alone; Braids, who had her hair in braids and a nice body; Brazilian Teeth, who had a Brazilian wax and bright white teeth, hooked up with braids; Dexter St Jacques, who worked there and was the staff photographer (I did my best to be avoided); Banana Hammock, who was an event coordinator there and had the body he knew had could show off; Cage Sista, who worked there and reminded us of characters from Con Air and that movie with Adam Sandler where the guards play the prisoners, very flamboyant; etc.
After dancing and watching some people get wild and some people just watch, like us, we went to the hot tub near our pool, on the "buck naked" side for awhile before going off to bed.
Day 5

The resort was smaller in person than we'd imagined based on the photographs on the website. The beaches were small and you couldn't really get deeper than chest level in the water. Also, it was a full bar, but the brands were not what you'd have at home. The rum was only Appletons, which I think is inferior to Captain Morgan. The amaretto wasn't DiSerrano. The tequila, when they hadn't run out of it, was some kind of house brand swill. I only finished frozen drinks like the flying gorilla (they called the dirty banana), an ice cream drink with banana liqueur and creme de cocoa.
We slept in a tiny bit and laid on the beach. It was nice having the breeze across my skin and just reading while watching the water and the crabs scuttling along the sand. There were two kinds of crabs, pale ones more blond than the sand who were in the middle of the sand, and dark ones who stayed near the piers and rocks. The water was very relaxing and we just laid there reading and doing nothing, like a proper vacation. Later the beach side filled up and ruined my zen. The "take it off" woman came by and told those who were topless to take it all off as this was the nude side. What a great job! Several people complied and one left. The problem, as Dave described it, was that there was no clothing optional beach, just a pool, so the topless bathers thought they could be topless on the nude beach, which apparently wasn't the case. Security made a presence and I felt quite safe the whole time I was there. Everyone was friendly and nice. Staff was excellent. I wouldn't go alone, but then I think I'd mostly be bored by myself. It would be an excellent place to go with another couple or a few couples.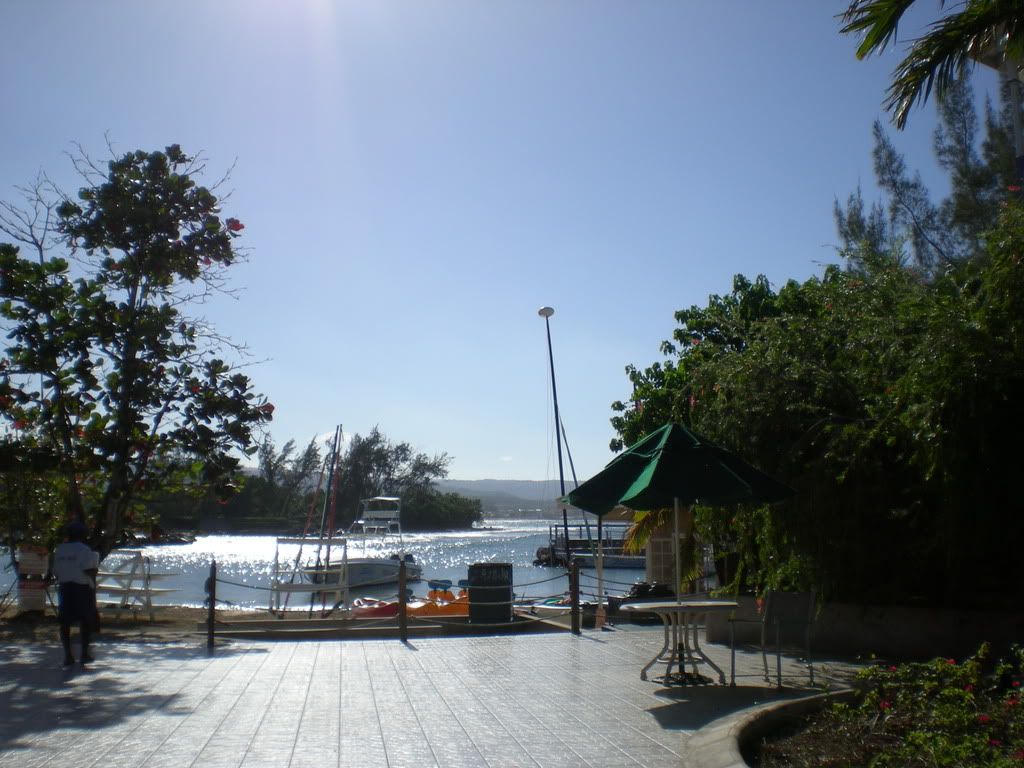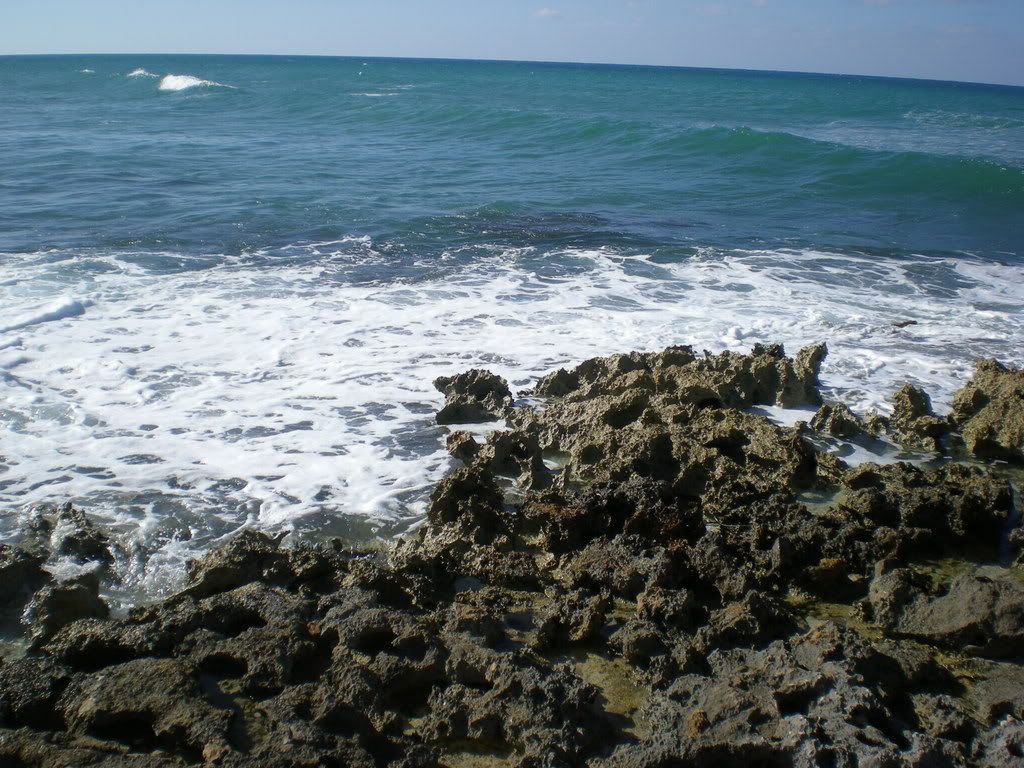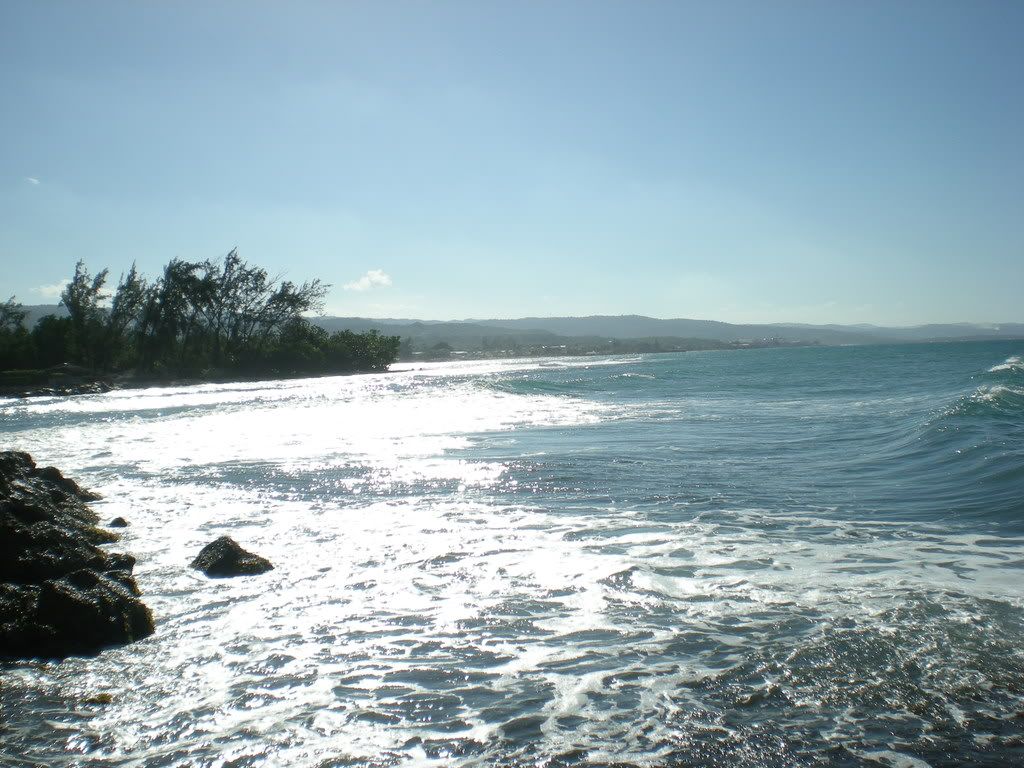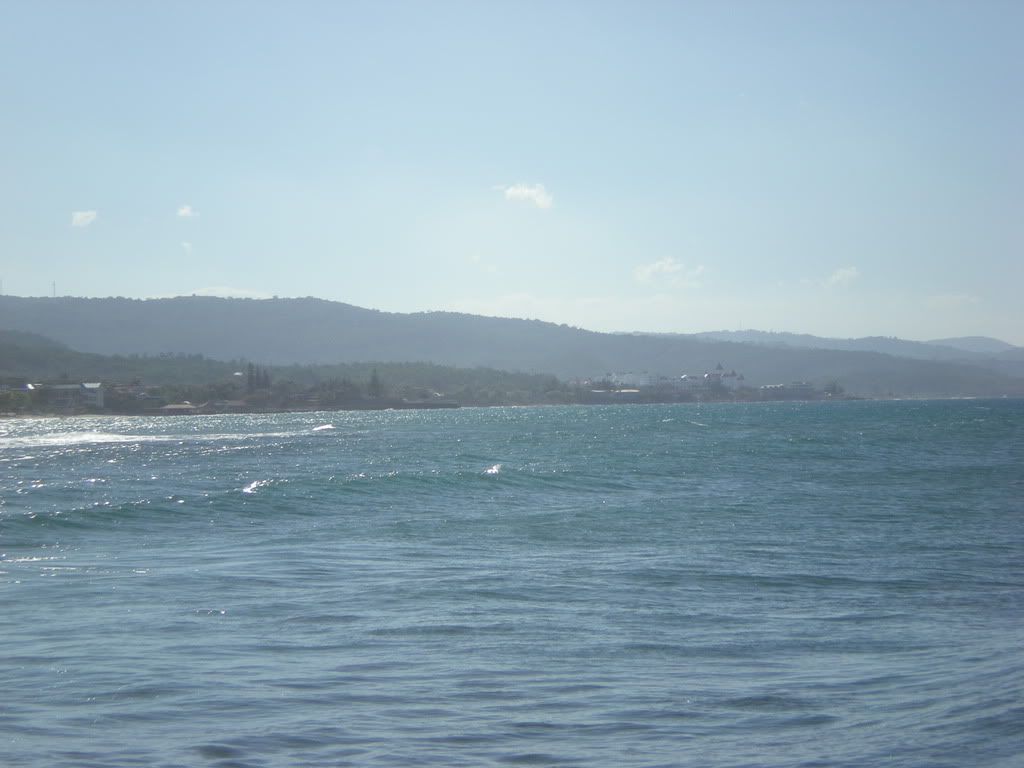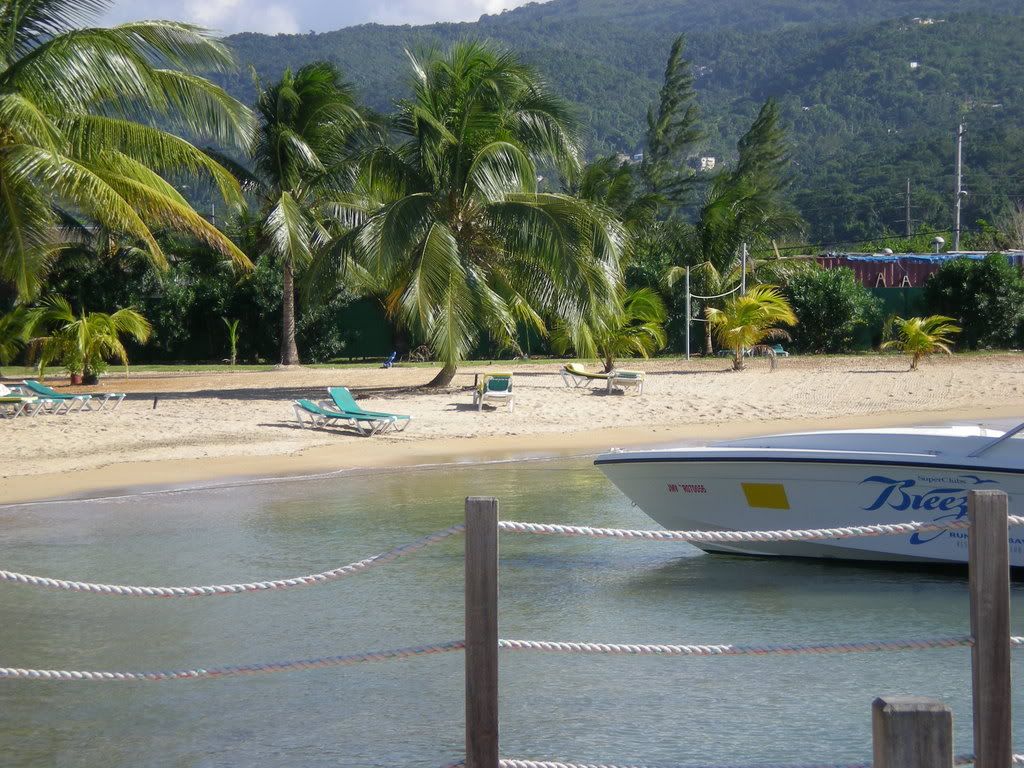 Funny story: We were walking along the boardwalk noticing all the crabs and how it was wet here and there when Bam! A wave crashed on the rocks and soaked us. We cracked up, but were careful to avoid the boardwalk when it was wet thereafter.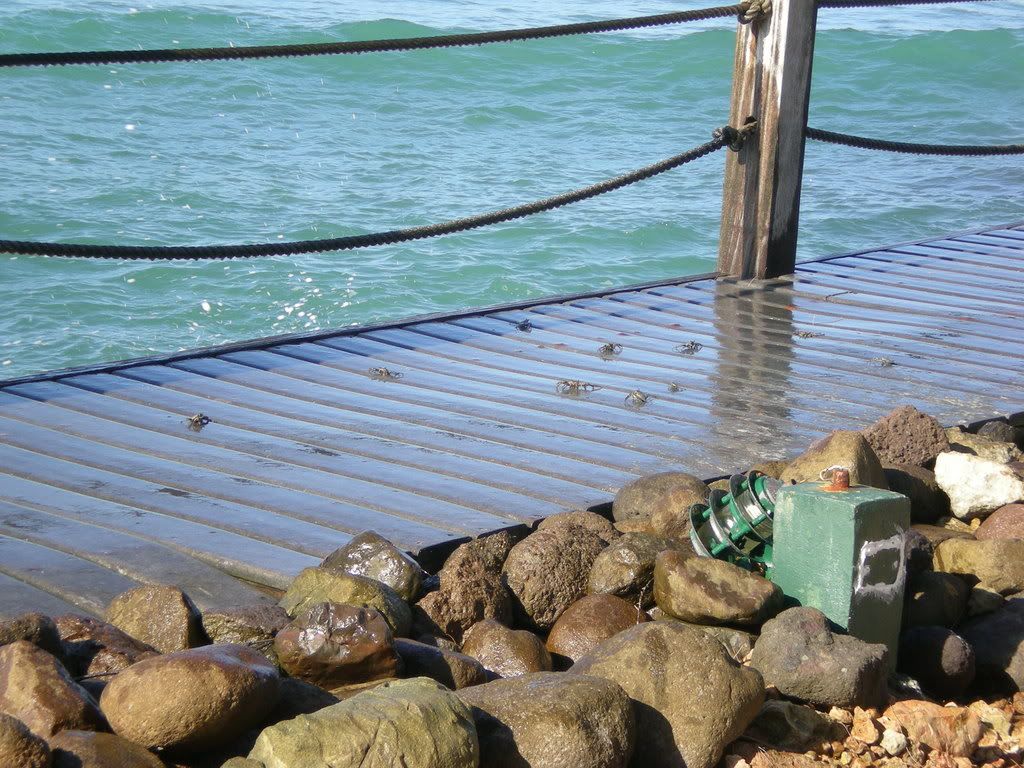 There were feral kitties all over. We took very few pictures because the side we were on didn't allow cameras (for good reason). While laying by the pool, a bird tried to pick up a lizard from a tree that was partially shading me and dropped it in my hair, on my shoulders. I flicked "the twig" out of my hair and the lizard ran and jumped to the next chair. Dave said he saw the whole thing. Quite funny and unexpected, being rained on by lizard after a clumsy bird lost his lunch, literally.
It was overcast this day and made it easy to not get burned. We skipped the party, which was "retro" and stayed in bed instead. We tried to see the glass bottom boat ride or snorkeling, but were told the seas were too rough. We had dinner at their teppanyaki restaurant Munasan, which was okay, but no Benihana.
Day 6

We did a little more laying out and I wish it were more exciting to tell, but it was a beach vacation. It was just was it was supposed to be. We went to see the toga tying demonstration for that night's party and somehow ended up as "volunteers" on stage to have our togas tied on. We kept those same ones for the party later that night. Saved us from having to figure it out later. We had coco bread and Jamaican patties, which were much flatter and less flaky than in the US, for lunch and went to Pastafari for dinner. It was Jamaican flavored Italian dishes, theoretically. We weren't impressed and thought their buffets were much better. The food was good and we nibbled frequently.
That night was the toga party which was wild. I learned that I could finish a drink of vodka and cranberry juice and indeed had four of them in an hour, as did Dave. I learned that 4 6-ounce drinks in less than an hour is the necessary blood alcohol level to get my husband to dance. It is also the same level that makes me go right to sleep. I was DRUNK! Oh my. Not even the fun drunk, the lay me down drunk. But before it hit me I danced and had a good time to "The roof is on fire, we don't need no water, let the motherfucker burn" and such. I learned that the maximum capacity for liquid in my belly is exactly 6 6-ounce glasses of fluid. Just before "get me to bed" came "get me to a bathroom". But still a good time. I slept soundly for a few hours.
I also learned that a 12 ounce bottle of sunblock will cover two naked bodies three times with just the tiniest bit leftover.
A wise friend once told me that [and I'm paraphrasing here] whatever you do and whomever you are, you will Offend someone, and Inspire someone, but what is important is to Radiate your inner self. So OIR, Offend-Inspire-Radiate! After the first hour or two at the nude beach, I found that very little phased me. There was certainly something attractive about everyone and something unattractive about everyone. Sometimes what was unattractive was the personality coming through - snobbishness, being overly friendly, trying too hard. I have to say that I have a newfound respect for my body, being just as it is. I don't think I'm the best looking person around, certainly not. And I know that with more fitness my body can look closer to the ideal that I aspire to. But I also know that there's nothing wrong with the skin I'm in and that its okay to be imperfect. There were women there whose bodies were very close to the ideal that I would classify as perfect, yet they were covered up and shy. I wonder if they will look back at their lives in a decade or two and wish they'd been more proud of what the had as time ravages us as it does. As for me, no tan lines.
Day 7
One thing I noticed on our travels was the distinct dichotomy between the upper class with disposable income and those completely without. In Vegas, we say quite a few homeless, which nearly makes you feel guilty for having money to just burn on gambling (we don't play with more than we're willing to lose). Plus, it was cold. And in Jamaica there were beautiful resorts and huge houses built into the sides of the mountains and then ramshackle buildings made of scrounged supplies like bits of plywood and corrugated steel. As we were leaving, our driver (a much more pleasant man than our first driver who gave us a tour of the scenery) pointed out some demonstrators holding signs about the free public beach. Apparently the government had sold off quite a bit of public beach that the locals used to swim in and to fish from (fish being a staple of their diet and also sold in many of the roadside restaurants that we passed) taking the money from the hotels instead. Sad, really. The bit of beach we'd passed had just been so sold the day before.
Our flight home was delayed and we got some food from a little snack shop in the airport, the most expensive two sandwiches (on regular wheat bread, not some fancy sandwich), two bottled drinks, and one bag of chips ever at over $16 US. Our change was partly in Jamaican currency, so we'll throw that in a scrapbook. The flight was easy and I have to say that my two flights on Air Jamaica were the best flights of the four I took. There was always refreshment and the people were pleasant and the seats not too uncomfortable. Customs in the US was awful to get through and took over an hour after we'd landed. Unfortunately our friend was waiting for us the whole time outside. We were glad to be home and saw that our cats missed us terribly. My dad house-sat for us, which was very convenient as my kid is in school and takes a bus there and back. However, he must have smoked in my bedroom because it reeks in there even the next day. 6 days of traveling seems like just the right amount as sleeping in my own bed was heaven last night.